Look Forward, Not Back, on Iraq: 9/11 Commission Vice Chair Lee Hamilton '52 to 'Issues for America' Symposium
September 17, 2004
Also: Ambassador L. Paul Bremer III's Ubben Lecture; A Conversation with Roger Wilkins; Dan Quayle '69 Welcomes "Issues for America" Attendees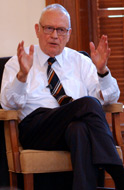 September 17, 2004, Greencastle, Ind. -

[Download Audio: "Moving Forward" - 365kb] "I hope all of you, no matter how you feel about the war --whether it was right or wrong to go in -- in some sense I hope we can put that behind us. We can't do much about that now," said Lee Hamilton, former U.S. congressman and vice chair of the 9/11 Commission, this morning at DePauw University. "The real question now is, how do we go forward from here? And I believe it's very much in our interest to solve this problem in some satisfactory way." Hamilton, a 1952 graduate of the University, appeared as part of "DePauw Discourse 2004: Issues for America," a three-day election issue forum hosted by the Washington C. DePauw Society. The session was moderated by John McWethy '69, chief national security correspondent for ABC News.

[Download Audio: "Protecting American Interests" - 526kb] "If Iraq breaks up into three countries, say, or if Iraq is chaotic -- if it has civil war -- that really is not in the American interest," continued Hamilton, who spent three-and-a-half decades as a Democratic congressman from Indiana and chaired the House Committee on Foreign Affairs (now the Committee on International Relations). "It could be extremely explosive in that part of the world, and I don't think any of us want to see that happen.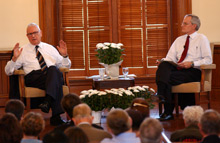 So I would urge you to take a look at this not so much looking back, but try to look forward and see what we need to do to protect the American interests in the region."
Hamilton says the 9/11 Commission determined there are two enemies when it comes to terrorism: al Qaeda, which has relatively few members but a strong desire to destroy all things American, even if it means losing their own lives in the process; and the ideological movement of radical Islam, whose members, say Hamilton, may admire Osama bin Laden and have dislike for America, but are not prone to violent acts. "Now the test for American foreign policy is going to be in our ability to appeal to these people, and they stretch from Morocco to Indonesia," the commission's vice chair said. The message to them needs to be,

[Download Audio: "The Generational Challenge" - 504kb] "We want to help you and we're on your side. And we want to make sure that you have an agenda of opportunity: that you have a vision of life that means you can improve your life and the life of your family. And that we're
going to push your governments -- Pakistan, Saudia Arabia and Afghanistan -- in that direction. This is why we say it's a generational challenge, because you don't do it over several years, you do it over many decades."
The 9/11 Commission's report became an instant best-seller. Hamilton told the crowd that filled Meharry Hall,

[Download Audio: "In-Flight Reading" - 296kb] "I was on the airplane yesterday. I walked down the aisle and there were three passengers reading the book, and each of them asked me to sign it... it's amazing how many people are reading that book ...

[Download Audio: "Momentum" - 270kb] "because it had a lot of interest from the American people we were right up there with Harry Potter on the best-seller list. We had a certain momentum and the politicians couldn't ignore it."
The bipartisan commission came up with a list of 100 to 150 recommendations, but Hamilton says the group agreed the long list would "overload the circuits" and the panel decided instead to
"hit the big ones." He says,

[Download Audio: "A Collegial Experience" - 753kb] "We did not have a single partisan vote during twenty-two or three months of work in the commission. We did not have a single dissenting vote on the recommendations. We worked in an atmosphere of collegiality and openness, and I became -- and I think the others became -- good friends in the process. We spent hours and hours deliberating, trying to build consensus. I don't know of any other way to do it. You just have to talk these problems out when you have differences of opinion, and it can be done if it's done in an enviornment of good faith and considerable diligence."
Lee Hamilton, a basketball standout while a student at the University, opened his presentation by remarking,

[Download Video: "Hamilton on His Alma Mater" - 974kb] "It's a high privilege to be with President Bottoms and the DePauw faculty and students. I've so greatly admired what's happened at this University since I left. I'm not sure there's a connection there," Hamilton said with a smile. "You've sure made a lot of progress since I left."
Besides Lee Hamilton's talk, "Issues for America" featured a Timothy and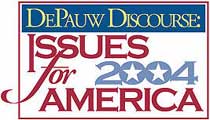 Sharon Ubben Lecture by L. Paul Bremer III, former presidential envoy to Iraq (read more here); a conversation with civil rights leader, Pulitzer Prize-winner and political historian Roger Wilkins (read more here); and three dynamic panels of accomplished current and former public servants, journalists, and DePauw faculty members who will define domestic issues, discuss the media's impact on the presidential campaign, and contemplate America's role in the world.
Access the complete Issues for America schedule by clicking here.
Back