USA in 2004 "Much More Fair" But African-Americans Suffering Economically, Roger Wilkins Says at 'Issues for America'
September 17, 2004
Also: Ambassador L. Paul Bremer III's Ubben Lecture; Lee Hamilton '52 on Iraq and the State of the World; Dan Quayle '69 Welcomes "Issues for America" Attendees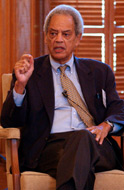 September 17, 2004, Greencastle, Ind. -

[Download Video: "Growing Gap" - 582kb] "The gap between the blacks who have and the blacks who don't have is greater than it ever was," said civil rights leader, Pulitzer Prize-winner and political historian Roger Wilkins this morning on the DePauw University campus. Wilkins appeared as part of "DePauw Discourse 2004: Issues for America," a three-day election issue forum hosted by the Washington C. DePauw Society. He spent nearly ninety minutes talking with Ken Bode, Eugene S. Pulliam Distinguished Professor of Journalism at DePauw, who moderated the forum, and taking questions from the audience.
Wilkins, a radio commentator for NPR and the Clarence J. Robinson Professor of History and American Culture at George Mason University, says it is a "much more fair, much more just world" than it was before the civil rights movement. The America he grew up in -- he told an audience of alumni, students and faculty in Meharry Hall -- had a much different tone.

[Download Audio: "The Way it Was" - 580kb] "It is hard now for people to remember what segregation was. A lot of people think that you had to sit on the back of the bus or you had to sit upstairs in the theaters,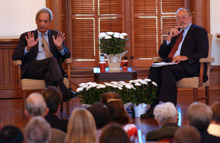 or there were certain restaurants you couldn't go to [and] neighborhoods you couldn't move into. It was far deeper than that. It was a national shunning of black people."
The Brown v. Board of Education decision, fifty years ago, has changed America for the better, Wilkins argued. While some critics claim the Supreme Court decision that struck down the nation's "separate but equal" doctrine has failed,

[Download Audio: "Wilkins on Brown" - 518kb] "That is just wrong. That is dead wrong. The decision in Brown v. Board of Education cracked segregation and gave black people and their legion of white allies who wanted a more decent country the energy and the hope to make the attacks on segregation that transformed our country."
Still, problems remain. Forty percent of African-American children are born into poverty, Wilkins says, and he contends very few politicians are discussing the underprivileged in this election year.

[Download Audio: "The Silent Issue" - 759kb] "You don't hear a candidate vying for votes in the minority communities
by saying, 'I have a commitment and here is my program.' Basically, the fight over race is the Democrats trying to increase black participation in voting and lots of other Democrats and other progressives worrying like crazy that Republicans will find a way to suppress the black vote in places like Michigan and Florida, where it could be critical."
Speaking of the campaign, Wilkins called the situation in Iraq a "dreadful mess" and talked of his worries about the growing federal and trade deficits. But he says the Bush campaign is doing a much better job of staying "on message. Case in point: yesterday, when President Bush responded to a U.S. National Intelligence Council report that offers three pessimistic scenarios on Iraq -- including the possibility of a civil war before the end of 2005.

[Download Audio: "Capitalizing on Opportunities" - 630kb] "The President makes a speech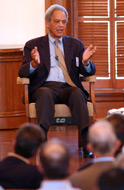 in which he says, 'There will be elections in Iraq in January. Freedom is on the move!' Now, if John Kerry could say a five word sentence ... simple declarative sentences are just not in his makeup. But the president has mastered them. They're clear, they're on message. Yesterday, [which] could have been a calamitous day if the Democrats were nimble, because they just sailed on over it."
Roger Wilkins has had a distinguished career that has spanned government, law, philanthropy, and journalism. He has authored two books, written at least 60 book reviews and op-ed pieces for major American papers, published articles in two-dozen magazines, and conceived, written, and narrated two Frontline documentaries. He served as assistant attorney general under President Lyndon B. Johnson, and is perhaps best known for his role in exposing Watergate in the '70s -- a feat that earned him the Pulitzer Prize along with Bob Woodward, Carl Bernstein and Hal Herblock.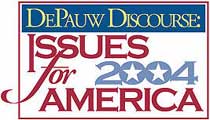 Besides Wilkins' talk, "Issues for America" featured a Timothy and Sharon Ubben Lecture by L. Paul Bremer III, former presidential envoy to Iraq (read more here); a conversation with 9/11 Commission vice chair and former U.S. Congressman Lee Hamilton '52 (read more here); and three dynamic panels of accomplished current and former public servants, journalists, and DePauw faculty members who will define domestic issues, discuss the media's impact on the presidential campaign, and contemplate America's role in the world.
Access the complete Issues for America schedule by clicking here.
Back