CBS Must Prove Bush Documents Are Legit or Come Clean, Prof. Ken Bode Writes
September 18, 2004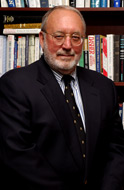 September 18, 2004, Greencastle, Ind. - "The New York Times headline describing the president's National Guard service is one for the journalism textbooks: 'Memos on Bush Are False But Accurate, Typist Says,'" begins Ken Bode's weekly op-ed column in the Indianapolis Star. Bode, Eugene S. Pulliam Visiting Professor of Journalism at DePauw University, continues, "CBS News has admitted that it was only working from copies of the four memos indicating that Texas Air Guardsman George W. Bush had been suspended from flying, that his superior officer had been pressured to 'sugar-coat' his records, and that Bush was 'talking to somebody upstairs' to assure favorable treatment. The memos came from a source that CBS promised anonymity."
Later, Dr. Bode adds, "Geneva Overholser, the former ombudsman for the Washington Post, points out, 'It's a cardinal rule of journalism: Do not disclose the identity of someone who gives you information in confidence.' Overholser is absolutely right, except in rare circumstances. In this instance, the CBS story is unraveling."

Bode, former senior political analyst for CNN and host of PBS' Washington Week in Review, opines, "CBS News has done the Bush campaign a great favor by making itself the issue, not the president's National Guard record. CBS itself is now being investigated by competing newspapers, networks and Web sites... There is an adage in our business that a scoop that remains a scoop for more than 24 hours means trouble. If others don't pick up a big story, you probably got it wrong. This is a bad scoop. Other news organizations are not picking up the story; they are picking it apart."
The professor says it's incumbent upon CBS News to "produce originals of the memos to be authenticated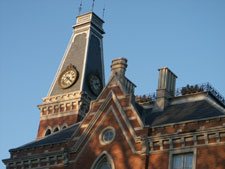 or let go of the fiction that the documents are real. If that is the case, Rather must ask himself how long he is obligated to maintain the confidentiality of someone who gave him bogus information. How much allegiance does he owe to someone who has to lied CBS?... They owe it to the country to say why they believed him in the first place and where their fact checking broke down."
In conclusion, Bode states, "If it turns out that the memos are doctored and CBS was duped, this incident will have one certain outcome: George W. Bush will be inoculated from any further criticism of his National Guard Service for the rest of his political career. For that, he can thank CBS."
Read the complete column at the Star's Web site by clicking here.
Access other recent columns by Ken Bode here, here, here, here, here, here, here, here and here.
Back