Norval Stephens '51 Awarded Old Gold Goblet
October 22, 1994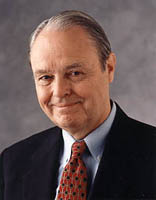 October 22, 1994, Greencastle, Ind. - DePauw University presented its highest alumni award, the Old Gold Goblet, to Norval B. Stephens Jr. of Barrington, Illinois during Old Gold Weekend at the University. The Old Gold Goblet is given annually to recognize "eminence in life's work and service to alma mater."
Stephens, a 1951 graduate of DePauw with a major in economics, is president of the Norval Stephens Company, a marketing consulting firm located in Schaumburg, Illinois. He has spent more than 35 years in marketing, first with a large retail chain and later with one of the world's premier advertising agencies. Prior to forming his own company in 1987, he was with DDB Needham Worldwide Inc. During his 30 years with Needham, he held successive positions as resident director in Europe, deputy director of the New York office, managing partner in Chicago, and chief operating officer of the International Division.
Stephens has just completed a two-year term as international president of Delta Tau Delta fraternity and is a director of that fraternity's educational foundation, one of the largest in the Greek world.
He is a past member of the Pelham, NY Board of Education; Chicago's Mid-America Club; president of the Wm. Rainey Harper College Educational Development Council; Health Services Board of Northwest Community Hospital; Barrington, Ill., Area Arts Council; Lake Forest, III., Children's Home; Arlington Heights, III., Memorial Library; was a Trustee of the Village of Arlington Heights; was commissioner and chairman of that community's planning commission; and was a founder of the Arlington Heights United Fund.
Since 1987, Stephens as served as a member of DePauw's board of trustees, chairing the admissions ad hoc committee, charged with creating a more effective marketing focus in its recruiting efforts. He has also served on the Board of Visitors and the Alumni Board. He has participated on the Rector Scholar Steering Committee and has served as a career planning and placement and admissions volunteer. He was president of both the Chicago Alumni Club and the Alumni Association board of directors, and he is a lifetime member of DePauw's prestigious Washington C. DePauw Society. He received the Rector Scholar Achievement Award at his 25th Class Reunion.
As a student, he was a member of Phi Eta Sigma and Phi Beta Kappa honoraries, treasurer of Duzer Du, the dramatic society, student chairman of the first Union Board, and president for two years of Delta Tau Delta fraternity.
Stephens and his wife, Diane, a 1951 DePauw graduate, are parents of five children. His son, James, is a 1986 graduate. His brother, sister-in-law and niece are also DePauw graduates.
Founded in 1837, DePauw University in Greencastle, Indiana, is a selective coeducational, liberal arts university with nationally recognized academic programs. DePauw guarantees graduation in four years for students in 40 standard programs, or the University will waive tuition and fees for any subsequent course work necessary for graduation. Fortune magazine in 1990 ranked DePauw 11th among all colleges and universities in the nation in terms of the likelihood that its graduates will become chief executive officers of top American companies. DePauw ranks 12th in the nation among private liberal arts colleges and universities as the baccalaureate source for Ph.D. degrees in all fields, according to a 1993 survey by Franklin and Marshall College.
Back