David Bohmer '69, Former Telecommunications Executive, Named Director of DePauw's Center for Contemporary Media
June 30, 1994

June 30, 1994, Greencastle, Ind. - David A. Bohmer, former senior vice president of Centel Corporation and president of Centel Cable Television Company, has been named director of the Center for Contemporary Media at DePauw University effective August 15, DePauw President Robert G. Bottoms announced today. Bohmer, a 1969 DePauw graduate, succeeds Ken Bode as director. Bode, who joined DePauw in 1989, reduced his responsibilities at the center in order to become moderator of Washington Week in Review, public television's premier news show located in Washington, D.C., earlier this year. Bode will continue to teach and work with DePauw students to help them prepare for careers in the news media.
As director, Bohmer will oversee operation of the Center for Contemporary Media. The center includes the student newspaper, The DePauw; WGRE-FM, the student-operated radio station; television and video production units; student yearbook, The Mirage; photography and graphics laboratory; and a computer laboratory. The center also schedules well-known national journalists and other national figures to speak throughout the year.
Bohmer also will direct the Media Fellows Program. Coordinated through the Center for Contemporary Media, Media Fellows is an honors program designed for students who plan a career in the media and communications related
areas. Students in this program serve semester-long internships in news media and communications organizations around the country. During the spring semester this year, Media Fellows internships included USA Today and the communications office of Vice President Al Gore.
"In an era of rapid change in the communications industry, David Bohmer brings a unique background to DePauw and the Center for Contemporary Media," President Bottoms said. "Not only will the university benefit from his outstanding management experience at the national level on issues facing the communications industry today, but also from his knowledge of DePauw as an alumnus, volunteer and teacher. Bohmer brings a great deal of expertise to share with DePauw students as a result of his involvement in the high-level management of the telephone, cable television and cellular businesses. In addition, he has participated in the public policy process at the federal and state levels on matters shaping the communications industry."
Dave Bohmer has been a part-time assistant professor at DePauw, teaching upper-level courses on the history of voting and elections in the United States and on public policy and the communications industry. In 1993 he helped found the National Association of Grass Roots Programs, a not-for-profit organization intended to promote greater participation in the public policy process.
He previously had a 17-year career with Centel Corporation, a diversified telecommunications company with 1992 sales of more than $1 billion. Bohmer was senior vice president for government relations from 1989 to 1992
and president of Centel Cable Television Company from 1986 to 1989. He earlier held numerous positions in the cable and telephone businesses.
Bohmer has been active nationally in several organizations, including the advisory board for the Center for National Policy, a Washington, D.C. think tank; board of governors for the Congressional Management Foundation; member of the U.S. Telephone Association Government Relations Committee; board member of the National Cable Television Association; C-SPAN; Cable Advertising Bureau; Walter Kaitz Foundation board; and NuCable Resources, Inc. He has lectured in The Washington Campus, a program for business students and executives supported by 16 universities.
At DePauw, Bohmer is a past chairman of the Board of Visitors as well as the Parents Advisory Board. His wife, Lynn Reuss Bohmer, is a 1969 DePauw graduate.
After receiving his bachelor's degree in history at DePauw in 1969, Bohmer earned both an M.A. and Ph.D. in American history at the University of Michigan. He also participated in the advanced management program at Harvard Business School.
DePauw has a long tradition of producing leaders in the field of journalism. Among DePauw's alumni are two former editors of the Wall Street Journal, two Pulitzer Prize-winning reporters and the publisher of the Indianapolis Star and News. The Society of Professional Journalists, the nation's largest journalism organization, was founded by DePauw students in 1909, and SPJ's national headquarters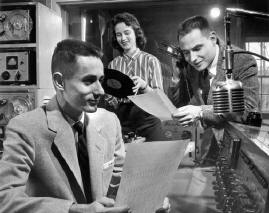 are located in Greencastle just blocks from the campus. The nation's first 10-watt educational FM radio station was started at DePauw as was Indiana's first college newspaper. The Indiana Journalism Hall of Fame was established on the campus in 1982.
Founded in 1837, DePauw University in Greencastle, Indiana, is a selective, coeducational, liberal arts university with nationally recognized academic programs. DePauw guarantees graduation in four years for students in 40 standard programs, or the university will waive tuition and fees for any subsequent course work required for graduation. Fortune magazine in 1990 ranked DePauw 11th among all colleges and universities in the nation in terms of the likelihood that its graduates will become chief executive officers of top American companies. DePauw ranks 12th in the nation among private liberal arts colleges and universities as the baccalaureate source for Ph.D. degrees in all fields, according to a 1990 survey by Franklin and Marshall College.
Back