Negative Campaigning Nothing New and Should Not Be Lamented, Prof. David Parker Writes
September 19, 2004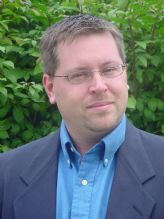 September 19, 2004, Greencastle, Ind. - "Negative campaigns long have been a staple of American politics, and the 2004 campaign certainly is no exception," writes David C.W. Parker, assistant professor of political science at DePauw University, in today's Indianapolis Star. Parker argues, "Bemoaning the levels of negativity misses two points: Politics is conflictual, and negativity itself is conceptually slippery. Politicians cast their actions and policies in the best light possible, while disparaging their opponent's. Some decry this as 'distorting,' 'lying,' or 'smearing;' I prefer to call it political reality."
The professor continues, "Frankly, Americans don't want a calm, dispassionate discussion. If they did, C-SPAN's ratings would eclipse those of Survivor and The Bachelor. Parties, candidates and interest groups should engage vigorously in a spirited debate, and sometimes the gloves must come off."
Dr. Parker opines, "It seems strange that we can accept the positive i

mplications of adversity in our own lives, but deny its usefulness in the political realm... Negative ads have been accused of fostering all sorts of ills: cynicism, declining participation, and rising levels of distrust in government. Negative ads, however, also have the capacity to motivate positive political action. Recent political science research has demonstrated that negative ads do not lead to lower levels of trust or efficacy, and may actually increase voter turnout and candidate recall... Indeed, if the volume of negativity in the presidential election today has reached an all-time high, we might do better to rejoice in the vibrancy of our democratic discourse than lament its poor health."
Access the complete text at the Star's Web site by clicking here.
Back