Publisher Sal Marino '42 to Join DePauw Media Wall of Fame
November 28, 1994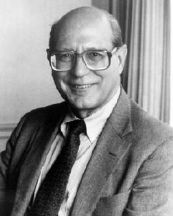 November 28, 1994, Greencastle, Ind. - A giant of the business press in America will be inducted into the DePauw University Media Wall of Fame on Friday, December 2. Sal Marino, president and chief executive officer of Penton Publishing, will join former inductees Barney Kilgore and Casey Hogate, both of the Wall Street Journal, in the Wall of Fame. The second annual induction ceremony is planned at 10 a.m. at the Center for Contemporary Media on campus, site of the Wall of Fame.
Sal Marino has been called the champion for editorial excellence in the business press. A 1942 graduate of DePauw, he heads a firm that publishes several business magazines, including Industry Week, Machine Design, Foundry and Automation. They are four of the most honored magazines in the industry.
"Sal Marino has set the modern-day standard for creative, inspirational, effective business publishing management," says Marshal W. Freeman, chief executive officer of Miller Freeman. "He has demonstrated how business publishing management can be made highly effective when driven by class and creativity."
Marino began his career at Penton as promotion and research manager. In that job, he won several awards for his
advertising and direct mail campaigns. In 1963, he became publisher of Steel, a narrowly targeted magazine which he transformed into Industry Week, now the leading publication in the field. He became president of Penton Publishing, headquartered in Cleveland, in 1972. It was there he became an industry-wide advocate for magazines with a strong editorial mission. "The magazine that serves its readers first, serves its advertisers best," he says.
Marino graduated from DePauw with a degree in sociology. On campus, he was the city editor of The DePauw, the student newspaper, and president of the Freshman Interfraternity Council. He has served as president of the American Business Press and the Cleveland Advertising Club. He is the founder of the Publishing Management Institute at the Kellogg Graduate School of Management at Kent State University in Ohio.
He remains active as a DePauw alumnus, also. He is currently chairman of the Center for Contemporary Media advisory board and has been active in the Washington C. DePauw society, the Board of Visitors and the 50th Reunion Fundraising Drive, where he served as chairman.
Marino is the author of two books: Business Magazine Publishing Management and The Longer You Work, The Harder You Live.
Back