"Mac" Thorlton '61 Appointed Director of Alumni Relations
July 26, 1993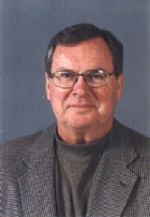 July 26, 1993, Greencastle, Ind. - J. McRae "Mac" Thorlton, former executive marketing director for AT&T Network Systems in Morristown, New Jersey, has been named director of alumni relations at his alma mater, DePauw University, it was announced today by DePauw President Robert G. Bottoms. As DePauw's director of alumni relations, Thorlton will work to develop programs for the university's 28,000 alumni and serve as liaison to the Alumni Association Board of Directors. Thorlton assumes his new position on August 16. He replaces David J. Petterson, who served as alumni director for two years and resigned to pursue other interests.
A 1961 graduate of DePauw, Thorlton has many family ties to the university. Twelve members of his family, including his wife, Dianne Harrison Thorlton, and daughter, Kristine, graduated from the selective liberal arts university. His uncle, James C. Loveless, served as DePauw's athletic director for many years. Thorlton has more than 30 years of management experience in sales, marketing, management training and public relations.
"I am delighted that Mac Thorlton is joining -- actually, rejoining DePauw -- in the key role of working with our alumni," President Bottoms said. "I am confident that his extensive background in management, strong commitment to DePauw, and
experience in public relations and working with the public will enable Mac to develop an effective alumni relations program."
For Thorlton, it's a dream come true to return to Greencastle, his hometown. He is pleased to be back at DePauw after 30 years in the corporate world. "I feel I'm joining DePauw at just the right time," Thorlton said. "We've never seen our university with a finer academic program, with more new state-of-the-art buildings, and a more enthusiastic alumni association."
He said he has four objectives for the Office of Alumni Relations. Thorlton plans to work to improve alumni understanding of what DePauw is today and will be in the future, encourage more alumni involvement in university life, develop alumni commitment to DePauw's plans and direction, and strengthen the relationships of his office and the Alumni Association Board of Directors with the university's admissions office, students, faculty and staff, and Board of Trustees.
"Dianne and I look forward to meeting as many of our alumni as we can, as soon as we can. Old Gold Weekend (October 16) and the 100th football game between DePauw and Wabash (the Monon Bell Game on November 13) will give us an early opportunity to meet more alumni," Thorlton said.
Before taking early retirement from AT&T, Thorlton's responsibilities as executive marketing director included market analysis and planning. His organization developed and implemented marketing plans for generating $300 million in annual sales. Prior to that position, he was executive sales director for Network Systems products in Denver and Seattle. He established an organization that designed and conducted management development courses for Western Electric Co.'s middle managers. (at left: 1961 photo of Mac Thorlton)
Thorlton received a bachelor's degree from DePauw with majors in psychology and English. He has taken numerous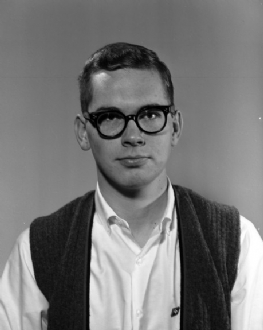 management and executive development courses at the University of Pennsylvania's Wharton School and the University of Michigan, and he did post-graduate work at Northern Illinois University.
He has been active in fund-raising with the Boy Scouts of America, The United Way and Junior Achievement. He led major business sectors in annual fund campaigns for United Way in Chicago, Seattle, Denver and Morristown, New Jersey and served on the boards of directors for Junior Achievement in Chicago and Seattle.
As a student at DePauw, Thorlton was a Rector Scholar, a member and officer of Delta Kappa Epsilon fraternity, vice president of WGRE Radio and a member of the DePauw marching band.
He was born and raised in Greencastle, and he graduated from Greencastle High School in 1957. His father, Rex Thorlton, was vice president of the former Central National Bank in Greencastle, and his mother, Agnes King Thorlton Isenhour, was a teacher in the Greencastle schools for 25 years. His mother was a 1928 graduate of DePauw. Thorlton and his wife plan to reside in Greencastle. They have two grown children, Tim and Kristine.
Back