Vernon Jordan '57 in the News as Bush and Kerry Campaigns Agree to Debates
September 21, 2004
September 21, 2004, Greencastle, Ind. - "The debates will provide an opportunity for President Bush and Sen. Kerry to have a serious discussion about the important issues to be decided in this election," says a joint statement from the two men -- one of them a DePauw University graduate -- who served as lead negotiators for the upcoming presidential debates. Attorney and civil rights legend Vernon E. Jordan Jr. -- a 1957 graduate of DePauw -- led John Kerry's team, while former Secretary of State James Baker III served as the lead negotiator for President Bush's campaign. The two sides have agreed to three presidential debates and one vice presidential debate.
Zachary Coile writes in the San Francisco Chronicle, "Political analysts said the debates could provide a scintillating match between Kerry, a champion debater at Yale University who has bested opponents in past campaign debates,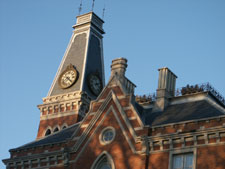 and Bush, who despite his occasional gaffes has crafted a down-home style that relentlessly sells his main campaign themes... In a new poll by the Pew Research Center, 29 percent of voters said the debates would matter in shaping how they would vote."
The first Bush-Kerry debate is set for September 30. Read more by clicking here.
Vernon Jordan presented the commencement address at DePauw in 1993. See and hear the speech, which is embedded below.
Back