Stanford Law Professor & Author Deborah Rhode to Present 'Women's Week' Lecture Thursday Night
September 22, 2004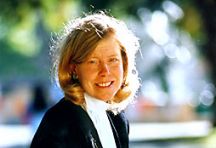 September 22, 2004, Greencastle, Ind. - Deborah L. Rhode -- Ernest W. McFarland Professor of Law, director of the Stanford Center on Ethics, and author of a dozen books including Speaking of Sex: The Denial of Gender Inequality -- will deliver the Women's Week convocation at DePauw University this Thursday evening. Professor Rhode's speech, "The Difference 'Difference' Makes," will begin at 7:30 p.m. in the Performing Arts Center's Kresge Auditorium and is free and open to all.
Rhodes, who has been called "America's leading expert on legal ethics," has served as president of the Association of American Law Schools, chair of the American Bar Association's Commission on Women in the Profession, and senior counsel for the House Judiciary Committee on impeachment issues. She has received the Keck Foundation Award for Distinguished Scholarship on Legal Ethics by the American Bar Foundation as well as the Pro Bono Publico Award from the American Bar Association.
The professor is widely quoted on the day's ethical issues, including affirmative action: The claim that people should be treated on the basis of individua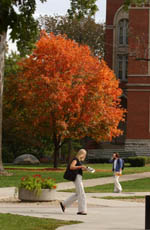 l rather than group characteristics certainly sounds right, but it comes several generations too early and several centuries too late;" and sexual harassment: "For centuries women have been harassed and it was only a problem for them. Now men in positions of power have to worry as well, and that's a good thing. You've seen a lot of responses by institutions to implement policies and procedures and training programs that are dealing with the issue at the preventive level. And that's a sign of enormous progress. We're still, as a country, trying to sort out where the boundaries are, and these cases are clarifying in some respects."
Of Rhode's new book, Access to Justice, consumer advocate and presidential candidate Ralph Nader writes, "Deborah Rhode has jolted a million lawyers with a wake-up call. She urges them to open the doors to the unmet need for justice by most of the people who cannot afford their services. A challenging book for anyone, not just lawyers and law students, who believes that justice can be done if we have the will to pursue it."
Besides the lecture by Professor Rhode, other Women's Week events include:
Wednesday, September 22

The Hump: Discussing the "ideal" relationship between Women's Studies and the Women's Center; 12:30 p.m., Union Building "Fishbowl"
Men Against Rape (MAR) Program: Continuum. A conversation and activity that explores what men can do to make DePauw a safer place for women; 8:30 p.m., Women's Center, 306 East Hanna Street

Thursday, September 23

The Center for Spiritual Life presents, Contemporary Issues: "Women in Judaism"; 12 noon, Union Building "Fishbowl"

Friday, September 24

Women's Center Dedication & Ribbon-Cutting with President Robert G. Bottoms; 12 noon, Women's Center, 306 East Hanna Street
Men Against Rape (MAR) Barbeque & Philanthropy; 4 p.m., Bowman Park
In addition, "Empowered: Portraits of DePauw Women Students," a permanent photography exhibit by artist Lydia Butler will be on view at the Women's Center. Like the Deborah Rhode speech, all Women's Week events are free and open to the public.
Back