New F.W. Olin Biological Sciences Building Dedicated
October 15, 1993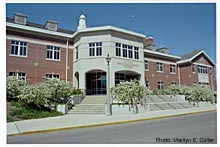 October 15, 1993, Greencastle, Ind. - DePauw University will hold an open house and dedication ceremony for the new F.W. Olin Biological Sciences Building today. The community is invited to attend. The open house, including tours of the building, is scheduled from 3 to 5 p.m. The dedication ceremony is scheduled at 5 p.m. in front of the building on Hanna Street. The ceremony will include statements by DePauw President Robert G. Bottoms; Lawrence W. Milas, president of the F.W. Olin Foundation, Inc.; and James K. Baker, chairman of the DePauw Board of Trustees.
The F.W. Olin Foundation, Inc. gave $6.05 million for DePauw to construct the building. Olin grants are much sought after with more than 70 schools entering the annual competition conducted by the foundation. Once awarded, Olin grants are intended as a strong endorsement of an institution's programs and leadership.
The 47,725-square-foot building provides modern facilities for teaching and research in the biological sciences and a state-of-the-art environment in which students can study science. It includes many outstanding features for students and faculty. For example:
Each science faculty member has an individual research laboratory designed for collaborative research with students. This arrangement provides an exceptional atmosphere for faculty-student collaboration.
Laboratories are designed to serve general subject areas rather than for specific classes. For instance, there are laboratories for animal biology, microbiology, anatomy and physiology, environmental sciences and botany.
A tissue culture facility provides the capability to grow cells as part of immunology studies. This facility offers excellent research and teaching opportunities in immunology.
The botany program is supported by a state-of-the-art, computer-operated and climate-zoned greenhouse.
Back