General Colin Powell Gives Charge to Summit on Putnam County's Youth
April 30, 1998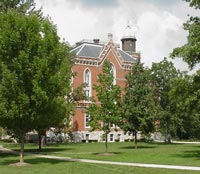 April 30, 1998, Greencastle, Ind. - General Colin L. Powell has issued a charge to the Putnam County residents participating in the first-ever "Safe Place" Summit for Putnam County's Youth on Saturday, May 2. "I commend your community as it begins to fulfill its commitment to the young people of Indiana," Powell wrote in a letter to summit participants. "Your participation in this summit is an important step in bringing America's Promise to life throughout our nation." More than 300 people are expected to take part in the youth summit at DePauw University from 8 a.m. to 4 p.m. It is intended to continue the work begun at The Presidents' Summit for America's Future held in Philadelphia in April 1997.
The summit will feature four keynote speakers, including two speakers from the nation's capital. They are:
Robert K. Goodwin, president and CEO of the Points of Light Foundation in Washington, D.C. He served on the Steering Committee for The Presidents' Summit for America's Future.
A.J. Hacker, executive director of the Putnam County Foundation and the United Way of Putnam County as well as past president of the Greencastle Chamber of Commerce.
Mike Rokicki, owner of Rokicki Insurance in Greencastle and active community member. Rokicki is a member of the board of the Putnam County Youth Council and the Putnam County Welfare to Work Committee as well as treasurer of Putnam County Comprehensive Services.
Michelle Rothengast, who works on special projects for Gen. Powell's organization, America's Promise, in Alexandria, Virginia. She works directly with Gen. Powell and other officers of America's Promise. (at right: General Powell during his November 2, 1994 visit to DePauw)
In conjunction with the youth summit, an essay contest was held for students in the county's middle and high schools. The first-place essay winner in the high school category is Breck Jones from Cloverdale High School, and the second-place winner is Katie Snellenbarger from Greencastle High School. High school runners-up are Jean Ann Custis from South Putnam High School and Marcy Hammer from Greencastle High School. First-place in the middle school category has been awarded to Landon Brothers from North Putnam Middle School. Recipient of second place is Megan Miller from Greencastle Middle School. Essay runners-up are Kristine Smith from North Putnam Middle School and Amanda Martin from Greencastle Middle School.
The essay winners will be keynote speakers at the youth summit on Saturday. They also will receive a $200 savings bond, $50 cash and a free dinner with their parents or guardians at the Walden Inn.
The summit will feature a panel presentation on a survey conducted to help determine the service and support needs of Putnam County youth. Brian Dixon, a Bonner Scholar at DePauw, will present the survey results, and moderators will be Pam Turner, executive director of the Putnam County Youth Development Commission, and Jim Kellon, IYSA. Panelists include: Cloverdale High School students Nick Jacobs and Andrew Krous, Greencastle school board member Ruth Ralph and Judge Diana LaViolette.
Dignitaries attending the youth summit will include: Senator Connie Lawson, Indianapolis; Lonnie Blumfield, Cloverdale Town Council; James Boyd, Indianapolis Urban League;
Representative Susan R. Crosby, Indianapolis; Richard Guernsey, IYSA, Indianapolis; James Sheldon, Washington Township trustee, Greencastle; Joseph L. Smith, Sr., representing the Indiana governor's and lieutenant governor's offices and the Indiana Commission on Community; Barry Baynard, Greencastle Town Council member from the Fourth Ward; Jim Renz, superintendent of Greencastle Community School Corp.; Murray Pride, superintendent of North Putnam Community School Corp.; Earl G. Williams, ;superintendent of South Putnam Community School Corp.; and Steven Wittenauer, superintendent of Cloverdale Community School Corp.
Two Indiana programs will be recognized as Exemplary Projects during the summit. One program is the Teen Court in Huntington, Ind., which involves more than 100 trained youth in conducting trials of the peers. The other program is the Boy's and Girl's Club of Columbus, Ind., which has a membership of 1,000 youth and has 100-200 youth involved in activities each day. The Programs of Promise awards will be presented during the summit luncheon. The signing of the Youth Declaration, written by Putnam County youth, and the signing of the Commitments will part of the closing ceremonies.
Seven businesses and organizations have joined the youth summit as a community public relations team. They include: South Putnam High School, Shell Kwick Mart of Greencastle, Collins Evans Real Estate Co., Inc., Reelsville Volunteer Fire Department, Greencastle Middle School, North Putnam Middle School and Marathon Gas Station of Greencastle.
Individuals interested in learning more about or making commitments for the "Safe Place" Summit for Putnam County's Youth can call 658-4870.
Back