Professors Phang and Choi Combine for Piano Recital Monday Night
September 23, 2004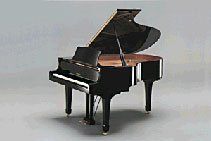 September 23, 2004, Greencastle, Ind. - Professors May Phang and Hye-Seon Choi will present a duo-piano recital that is free and open to the public on Monday, September 27 at 7:30 p.m. in the Performing Arts Center's Thompson Recital Hall. Featured on this unusual program will be four-hand and two-piano works by Franz Schubert, Astor Piazzolla, Sergei Rachmaninoff, and Maurice Ravel.
The concert is one part of the piano department's emphasis on chamber music -- an emphasis, which the professors maintain, extends to their piano curriculum. "These duo concerts are important," Dr. Choi (seen at right) maintains, "because they represent new and
different opportunities for pianists. They also pose new technical challenges, as we must deal with the ensemble issues and questions of balance that are unique to this environment."
These issues are most apparent in the evening's first piece, Schubert's bold Fantasie in F minor, the only work on the program for piano four-hands. Argentinean composer Astor Piazzolla's Le Grande Tango follows, lending a breath of fresh air to the proceedings. Originally written for cello and piano, Choi describes this particular incarnation for two pianos as "rhythmically captivating and fun." The program's second half will be dedicated to two twentieth-century masters, featuring Rachmaninoff's Fantasie-tableaux (Suite No. 1) and Ravel's two-piano arrangement of his own orchestral classic, La Valse.
Visit the DePauw University School of Music online by clicking here.
Back