Seating and Other Arrangements for Gen. Colin Powell's Ubben Lecture at DePauw
October 31, 1994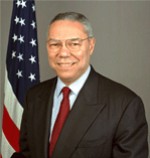 October 31, 1994, Greencastle, Ind. - DePauw University officials have announced special seating arrangements and other guidelines for General Colin Powell's speech at DePauw on Wednesday, November 2. All attendees must enter the Lilly Physical Education and Recreation Center through the north doors. Powell's speech, titled "From Desert Storm to the End of the Cold War -- And Beyond," is scheduled to begin at 7 p.m. It is part of the Timothy and Sharon Ubben Endowed Lecture Series.
Although tickets are not required for the lecture, special sections of seats have been set aside for DePauw faculty, staff, students and other groups. All faculty, staff and students must present their DePauw IDs in order to sit in the special sections. There will be 3,600 seats available, and seating for the public will be on a first-come, first-served basis. University officials recommend that individuals arrive early.
School groups attending the event will enter through the Indiana Street entrance
to the Lily Center. These groups will have assigned sections. TV, video and still cameras are not permitted in the Lilly Center during the lecture. Hand-held tape recorders will be permitted.
Following the lecture, Gen. Powell will take a few minutes for questions. Anyone wanting to ask a question is asked to proceed to one of the microphones provided.
Gen. Powell served as the twelfth chairman of the Joint Chiefs of Staff from 1989 to 1993 under both Presidents George Bush and Bill Clinton. He was in that post during Desert Storm when a coalition led by United States forces drove Iraqi invaders from Kuwait in 1991. In September of this year he was sent by President Clinton, along with former President Jimmy Carter and Sen. Sam Nunn (D-Georgia), to negotiate a peaceful outcome of American troops being sent to Haiti.
Endowed by Timothy and Sharon Ubben, both 1958 graduates of DePauw, the Ubben Lecture Series is designed to bring the world's top leaders, thinkers and creative minds to the Greencastle campus. See a list of all Ubben Lecturers by clicking here.
Back