Political Experts Offer 10 Ways to Improve American Electoral Process
December 11, 1991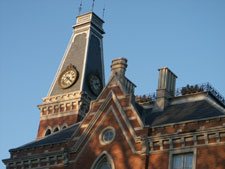 December 11, 1991, Greencastle, Ind. - Eighteen political specialists agreed at a DePauw University conference here last weekend that voters should be able to choose "none of the above" when they go to the polls. That was among 10 ideas for reforming the American political system that came from the conference -- "Why Are Elections Over Before The Polls Open?" -- which dealt with what some see as a lack of political competitiveness. The conference was co-sponsored by the Center for Contemporary Media at DePauw and The Joyce Foundation, and was held December 5-6.
Specialists attending the conference comprised a bipartisan cross section of prominent political thinkers: Democrats and Republicans, professors and former candidates, consultants and campaigners, authors and pollsters, reformers and reporters. Although they came from different perspectives, those participating in
the conference agreed that American voters are fed up and want changes made in the system. The solutions that conference participants suggested, in fact, deal with gripes that both voters and nonvoters have with the American political system: negative advertising, unfair advantages for incumbents, the role of Big Money, the lack of discussion of issues, and the conduct of elections.
Here are the 10 suggestions conferees approved just as candidates are elected -- by majority vote:
Require television broadcasters to provide free air time to candidates in all contested federal elections. This idea gives challengers, who usually have less money and less name recognition than do incumbents, a more equal opportunity to present their ideas to voters.
Require candidates to appear on camera at the end of political advertisements to say that they approve of the advertising messages and that their campaign -more- committees have paid for them. This idea is designed to make candidates publicly accept responsibility for negative campaign commercials.
Require at least two televised debates between candidates for president, U.S. Senate and U.S. House in all contested races. Lines in red ink reading "Has Refused to Debate Opponent" would appear on the ballot next to the names of candidates who won't debate.
Award a direct tax credit to any contributor who gives no more than a total of $50 to finance the campaigns of candidates for federal office. This option would be funded by redirecting money from a current tax deduction given for corporate lobbying expenses.
Establish an ad hoc committee to monitor the quality of public opinion polls taken and reported by newspapers, television stations and networks. This committee would have no sanctioning power over the media, but it would issue a report when it found poll results to be misinterpreted.
Transfer the redrawing of congressional district lines from the hands of incumbent congressmen and legislators to a nonpartisan commision.
Make members of the U.S. House of Representatives, who now face election every two years, instead stand for election every four years at the same time the president is elected. This idea is designed to temper the excesses of divided government -- a president of one party and a Congress of the other party -- and to prevent congressmen from insulating themselves from the currents of national voter opinion.
Use cable television systems as a way for citizens to question political candidates and to offer ideas on public issues. Enough cable systems already possess technology needed for such interactive links that 70 percent of American public can be reached through this means.
Add a new line to the election ballot that says "Favors a New Election." If that option gets more votes than any candidate on the ballot, a new election with new candidates would be ordered.
Try these ideas for 12 years through six House terms, two Senate terms and three presidential terms. If the ideas don't produce the desired effect -- namely, more competitive elections -- let them expire under a "sunset" provision.

"Many of the proposals adopted at DePauw have been considered by a Congress dominated by incumbents," said Ken Bode, director of the Center for Contemporary Media and the conference host. "But where Congress could not act, this group of political experts had no trouble reaching agreement that change is both necessary and possible. "There is ample evidence that the American public is increasingly angry and disenchanted with the political process. Changes like the ones suggested by the DePauw group could help restore some of that lost confidence," Bode said.
Specialists who took part in the conference were:
Fred Wertheimer, president of Common Cause, who presented a campus convocation speech.
Mitch Daniels, vice president, corporate affairs of Eli Lilly & Co. and former political adviser to President Reagan and Indiana Sen. Richard Lugar.
Christine Todd Whitman, who as a Republican senatorial candidate came within 2 percentage points of defeating incumbent Democrat Bill Bradley.
Jim Hightower, former Texas Commissioner of Agriculture who now heads an organization that is speaking out on blue-collar and farm issues.
Lloyd N. Cutler, a Washington attorney who was counsel to President Carter.
Marc Nuttle, an Oklahoma attorney who directed the National Republican Congressional Committee and Pat Robertson's presidential campaign.
Sandy Maisel, professor of government at Colby College and a former Democratic candidate for Congress.
Brooks Jackson, a long-time Washington political reporter now working with CNN's Special Assignment unit.
David Shribman, Wall Street Journal political reporter.
Elaine Kamarck, senior fellow of the Progressive Policy Institute and a freelance writer.
Albert Cantril, author of The Opinion Connection: Polling, Politics, and the Press.
Alan Ehrenhalt, editor of Governing magazine.
John Fund, Wall Street Journal editorial writer.
Ellen Miller, executive director of the Center for Responsive Politics.
Bruce Stinebrickner, chair of DePauw University's political science department.
Larry Hansen, freelance political writer and consultant.
Paula Wolff, distinguished fellow at the MacArthur Foundation.
Philip Powlick, DePauw University political science professor.
Back