DePauw Receives $3.9 Million from Trust of George E. Martin '15
April 23, 1993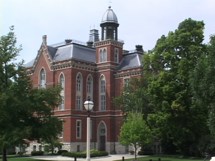 April 23, 1993, Greencastle, Ind. - DePauw University is the recipient of $3.9 million from the trust established 25 years ago by a 1915 graduate of the selective, liberal arts university. Receipt of the trust was announced at DePauw's board of trustees meeting on Friday, April 23.
When George E. Martin died in 1968, his trust was established with 817 shares of stock in Pacific Shipper, Inc. valued at $188,237. Martin was the founder, editor and publisher of Pacific Shipper, the oldest maritime publication on the West Coast. It is a weekly digest of shipping news, schedules of ship arrivals and departures, and other shipping information.
Through accumulation of value over the years and sale of the company in 1981, the value of the trust grew dramatically. After his death, Martin's widow received trust income until her death in 1990 and other relatives then received it until the 25-year expiration date placed on the trust by Martin. The trust estate then was to be awarded to his alma mater.
DePauw President Robert G. Bottoms said, "George Martin was an outstanding entrepreneur and businessman. He also had the foresight to develop a plan for his estate that not only provided well for his family but also benefits his alma mater with a dollar amount many times greater than the original amount of his trust."
The board of trustees decided to allocate the funds in three ways, according to Bottoms. A total of $2.04 million is designated as board-restricted endowment,
$1.1 million goes toward the building program for a new biological sciences building and renovation of Harrison Hall, and $750,000 is added to the Hewlett-Mellon Presidential Discretionary Fund that is used primarily for faculty development programs.
Martin was born at Peru, Indiana, in 1894, and he married Rubie Nancy Stewart in 1924. He majored in journalism at DePauw and graduated in 1915. At DePauw, he was a member of Sigma Delta Chi, the national journalism fraternity founded at the university in 1909, and Phi Gamma Delta fraternity. Following graduation, he moved West and worked on newspapers in Idaho and Seattle. It was while in Seattle that Martin saw the need and opportunity for a West Coast shipping magazine.
He and his wife founded their shipping publications in San Francisco in 1926. Pacific Shipper quickly became "the bible of the industry," and it was the basis for a flourishing trade publishing business that also included Pacific Air and Truck Traffic and Coast Marine and Transportation Directory.
The Martins helped to establish the San Francisco World Trade Club. George Martin also was a member of the San Francisco Transportation Club and the Marine Exchange.
Back