"Opportunity Knocks at Places Like DePauw," Writes Bloomington Herald-Times
September 23, 2004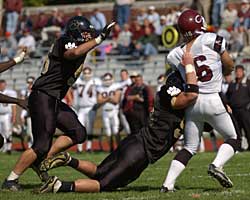 September 23, 2004, Greencastle, Ind. - "National television and crowds of 100,000 aren't necessary to enjoy the life of a college football player, not at places like DePauw," writes Rex Kirts in the
Herald-Times
of Bloomington, Indiana. "There are plenty of opportunities at smaller colleges like this, both academic and athletic," continues the column, titled "Opportunity knocks at places like DePauw."
The story highlights the Bloomington players on the Tiger roster -- Eric Lewis, Chris Gines, Jason Spielbeler, Rob Camfield and Kevin Prall -- and the contributions they've made to DePauw's 2-1 start.
The column notes that the "Bloomington players are extremely happy with choosing DePauw. 'I like it a lot,' Lewis said. 'I'm really happy with my decision. I definitely like the football.'"
Gines, who entered Saturday's victory over Hope college ranked as Division III's 25th best punt returner, tells the newspaper, "I love it here. It's awesome. I came here because it has top-notch academics and good athletics. And [Coach Bill] Lynch is awesome."
Spielbeler, an economics major, chimes in, "I love it here. I like the new coaches, and school is going well. I

like Lynch. He's a great guy... intense but easy to get along with." Adds Camfield, "Lynch has a great program. I've been real pleased with our intensity -- everyone came in and worked real hard."
Read the complete story at the Herald-Times' Web site by clicking here (a paid subscription is required).  Visit the football program online here.  The Tigers are preparing for Saturday's battle with11-time defending conference champion Trinity University.  Kickoff is at 1:30 p.m. local time, and the game can be heard live via streaming audio from student radio station WGRE by clicking here. 
Back