Junior Selected for Hansard Scholar Program and Will Study in London
October 14, 1992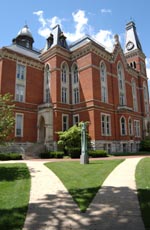 October 14, 1992, Greencastle, Ind. - Brian Harvey of Richmond, Indiana, a junior at DePauw University, has been selected by the prestigious Hansard Scholar Program, to spend the 1993 spring semester in London, England, working with English Parliament. Harvey will be there from January 11 through April 2.
Last semester, Harvey approached Amir Rafat, DePauw's director of International Education, to discuss the possibility of spending a semester of his junior year in London. Harvey was interested because he spent three months in England when he was in junior high school, and he wanted to go back. Rafat told Harvey that he had a choice of Oxford University, Essex University and London School of Economics, but Harvey wanted to work with Parliament. He did not want to go overseas and just take classes. Coincidentally, Rafat had been trying to get the Hansard Scholar Program at DePauw, and arrangements worked out with Harvey.
Harvey is the first DePauw student ever to participate in the Hansard Scholar Program. "I'm DePauw's guinea pig for the whole program," said Harvey. The Hansard Scholar Program is a Parliamentary and Public Policy Internship in London, and it is in association with Birkbeck College, University of London.
After Harvey learned he had won the scholarship, he was told he would be working with Gwenyth Dunwoodie in Parliament. She is a member of the Labor Party in
England. Harvey feels he is very fortunate to be working with Dunwoodie. "I have heard she is a very controversial Socialist -- one of the few Socialists in Parliament. Also, the rumor is that she uses her interns to the best of their ability. I plan to be totally prepared, and know enough about her so she sees I can do anything she gives me," said Harvey. He also hopes to be writing briefing papers and learning as much about English politics as possible.
Harvey is a political science major at DePauw. He hopes to learn on a first-hand basis all he can about the English and their government. "I want to understand British politics from an inside view," Harvey said.
Harvey, along with being an Honors Scholar, is involved in many activities at DePauw. He is the advertising manager for the student newspaper, The DePauw. He is an officer in his fraternity, Delta Upsilon, and he is in Phi Eta Sigma honor society. He has been involved in music and theater, including the Opera his freshman year for Winter Term, and he was the managing director of the Collegians, a jazz show choir.
Harvey hopes to get as much out of his internship as possible, and when the internship is over he plans to travel. "I have a little time off after the internship is over, so I'm going to visit some of my friends who are also traveling to Europe next semester," he said.
Back