Nick Mourouzis to Provide Color Commentary on Monon Bell National Telecast
October 5, 2004

[DOWNLOAD VIDEO: "See The Ballad of the Monon Bell" 9364KB]

[DOWNLOAD AUDIO: "Hear The Ballad of the Monon Bell" 2900KB]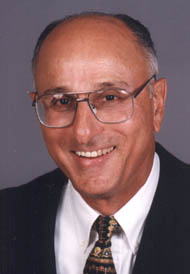 October 5, 2004, Greencastle, Ind. - After spending the past 23 Monon Bell games calling plays and shouting words of encouragement from the sidelines, Nick Mourouzis will put his voice to a different use from a higher perch when DePauw University battles Wabash College on Saturday, November 13 in Crawfordsville. "Coach Nick" -- the beloved, legendary coach who guided the Tigers to 138 victories, the most in University history, before retiring after the 2003 season -- will provide color commentary during the national telecast of the 111th Monon Bell Classic. The game can be viewed on DirecTV channel 321, or, in central Indiana, on WHMB/Channel 40. Kickoff is at 1 p.m. (EST).

[Download Video: "2000 Monon Memory" - 1639kb]
"DePauw alumni and friends of the University have great love for Nick, and having him in the booth will be a terrific asset to the broadcast," says Ken Owen '82, director of media relations at DePauw, who coordinates the annual telecast with his colleague at Wabash, Jim Amidon. "Nick is an encyclopedia of Tiger football and the game itself and will offer insights into
the players, the great rivalry, and the strategies the two teams employ. To borrow a metaphor from another sport, it's a slam dunk."

[Download Video: "1942 Monon Memory" - 1967kb]
Mourouzis took the head coaching job at DePauw in 1981 and led the Tigers to a 138-87-4 record. When he was elected to the Indiana Football Hall of Fame in April (along with his successor at DePauw, Bill Lynch; read more here), the Indianapolis Star's Pat McKee wrote that Mourouzis "is so respected at the Greencastle school that he has been chosen to give the commencement address next month. 'From the time I was in the seventh grade, I always knew that coaching is what I wanted to do,' said Mourouzis, who previously was an assistant coach for one year at Ball State, two years at Ohio University, eight years at Indiana and eight years at Northwestern. 'But this, it is such an honor. And I'm especially pleased to go in with Bill. He has accomplished a lot as a player and a coach. It is double-barreled with him.'"

[Download Video: "1997 Monon Memory" - 1537kb]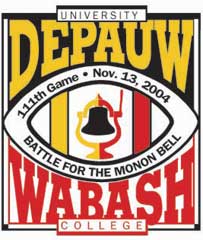 [Download Video: "1963 Monon Memory" - 1221kb] In the past, the battle for the Monon Bell -- one of college football's longest-running and closest (Wabash leads the all-time series 51-50-9) rivalries -- has been televised on < b>and ABC, was featured on CBS' Sunday Morning, and has twice been spotlighted in Sports Illustrated. ESPN listed the Bell Classic among "college football's greatest rivalries," and the annual DePauw-Wabash clash is also detailed in Rites of Autumn: The Story of College Football, a book by Richard Whittingham. Last year's contest was presented in high definition television by Marc Cuban's HDNet. Read about the plans for the DirecTV broadcast here.
For more than a decade the two schools have worked together to stage alumni parties across the nation where graduates and friends of the colleges can gather to catch up with friends and cheer on their favorite team.
Alumni telecast parties will again held in more than 40 cities coast to coast. Learn more by clicking here.
[Download Video: "1989 Monon Memory" - 3523kb] DVDs of the 2003, 2002 and 2001 Bell Battles are still available. Learn more, and order online, here.
Access DePauw's Monon Bell Web page by clicking here.
Go to a story on "Coach Nick's" commencement address, which includes video and audio clips as well as photos, by clicking here.
Back