Former VP Dan Quayle '69 Finds DePauw Connection at Celebrity Charity Golf Tournament in North Carolina
September 26, 2004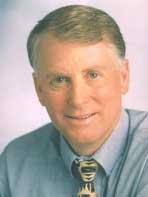 September 26, 2004, Greencastle, Ind. - Dan Quayle, the 44th Vice President of the United States and a 1969 graduate of DePauw University, is among those participating in this weekend's Marine Corps Celebrity Invitation golf tournament at Camp Lejeune, North Carolina. A story in the Tar Heel State's Jacksonville Daily News interviews one of the spectators at the event, Linda Howard.
Reporter Eric Steinkopff writes, "Linda's good friend, Wanda Meyer of West Union, Iowa was the fraternity-house mother for Quayle when he was in college at DePauw University in Greencastle, Indiana, so the experience was something particularly memorable. 'I'm going to tell her that I shook hands with him, and that he remembers her fondly,' Linda said. 'She's still a fan of Dan's. She said he was a nice young man, and he still sends her Christmas cards.'"
Proceeds from the tournament benefit Project Care and the Fallen Patriot Fund. Quayle's foursome also includes baseball Hall of Famer Johnny Bench.
Read the article by clicking here.
The former vice president recorded a message that opened "DePauw Discourse 2004: Issues for America," a three-day election issues symposium September 16-18 that featured a Timothy and Sharon Ubben Lecture by Ambassador L. Paul Bremer III. Read more by clicking here and here.
Back