DePauw Among Top Colleges Cited in Atlantic Monthly Article, "Who Needs Harvard?"
September 27, 2004
September 27, 2004, Greencastle, Ind. - DePauw University is cited as being among America's best small colleges in an article published in the October 2004 issue of Atlantic Monthly magazine. The piece, entitled, "Who Needs Harvard?," states, "The pressure on smart kids to get into top schools has never been higher. But the differences between these schools and the next tier down have never been smaller." Writer Gregg Easterbrook argues that the students who don't get into Ivy League schools or institutions such as MIT may be just as well served, or perhaps better off, by attending a university like DePauw.
He writes, "That getting into Princeton isn't a life-or-death matter hit home years ago for Loren Pope ['33], then the education editor of the New York Times. For his 1990 book, Looking Beyond the Ivy League, Pope scanned "Who's Who" entries of the 1980s, compiling figures on undergraduate degrees. (This was at a time when "Who's Who" was still the social directory of American distinction — before the marketing of Who's Who in Southeastern Middle School Girls' Tennis and innumerable other spinoffs.) Pope found that the schools that produced the most Who's Who entrants were Yale, Harvard, Princeton, Chicago, and Caltech; that much conformed to expectations. But other colleges near the top in Who's Who productivity included DePauw, Holy Cross, Wabash, Washington and Lee, and Wheaton of Illinois... These findings helped persuade

Pope that the glamour schools were losing their status as the gatekeepers of accomplishment. Today Pope campaigns for a group of forty colleges that he considers nearly the equals of the elite, but more personal, more pleasant, less stress-inducing, and — in some cases, at least — less expensive."
Access the Atlantic Monthly online (a subscription is required to view the complete article) by clicking here. The full story is also available without any fees at the Web site of the Brookings Institution, here.
DePauw has been ranked in the top tier of national liberal arts colleges by U.S. News & World Report for five consecutive years. DePauw's first-year experience -- depauw.year1 -- is also cited as a "program to look for" (read more here).
Princeton Review's annual publication, The Best 357 Colleges: 2005 Edition -- an unscientific, random survey of more than 110,000 students at the nation's top colleges -- ranks DePauw as #1 in "major frat and sorority scene"; lists student-run WGRE as the #6 college radio station in the country; and DePauw is #12 for "more to do on campus". The guide gives DePauw an academic rating of 97 (based, according to the Review, on "how hard students work at each school and how much they get back from their efforts"; rated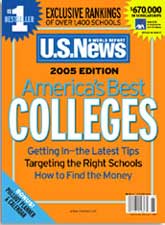 on a scale of 60-100 with 100 being best). By comparison, Massachusetts Institute of Technology, ranked "toughest to get into" in this year's book, has a 94 score. DePauw earns a financial aid rating of 98, a 97 for the strength of its admissions, and a quality of life score of 90. Read more by clicking here.
Finally, the new, 2005 edition of the Unofficial, Unbiased Guide to the 331 Most Interesting Colleges -- published by Simon & Schuster and sponsored by the test-preparation company Kaplan, Inc. -- ranks DePauw #4 in the nation in the percentage of full-time undergraduates receiving merit-based financial aid (45%), and #2 in average amount received per student ($12,134). The publication also ranks DePauw's fraternity and sorority system as the second strongest in the USA (Washington and Lee University is #1, one percentage point ahead of DePauw). The editors write, "DePauw's extensive internship opportunities and attention to marketable knowledge and skills bode well for anyone looking to beat the competition before their careers even begin... The education DePauw offers is specifically designed to hone students' analytical skills, perfect their writing ability, and ensure that they can think and speak effectively." Read more here.
Back