Percussion Plus Project to be Joined by Organist Carla Edwards at Sunday Evening Concert
September 28, 2004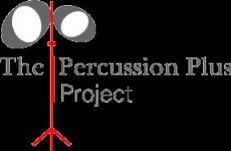 September 28, 2004, Greencastle, Ind. - Bringing together unique sounds through diverse instrumental combinations has always been a primary goal of the Percussion Plus Project. Its first concert of the season, taking place on Sunday, October 3 at 7:30 p.m. in the Performing Art Center's Kresge Auditorium, will continue that tradition as the ensemble invites DePauw University professor and organist Carla Edwards to the stage as soloist. The concert will feature works by contemporary composers Petr Eben, Paul Creston, and Lou Harrison and is free and open to the public.
The Percussion Plus Project is led by Amy Lynn Barber (seen below left), dean of the DePauw University School of Music. Barber founded the group in 1993, while a professor of percussion at the Prague Conservatory.
"The Percussion Plus Project is a unique contemporary cha
mber music ensemble, which focuses on an unusual and exciting repertoire that is little known to general audience," says Barber. "Our programs consist of works for percussion, ranging from one to many players, and another solo instrument. No other ensemble devotes itself solely to this repertoire."
Joining the group in this particular sonic adventure is Carla Edwards, University Organist and Cassel Grubb University Professor of Music (pictured at right), who has concertized extensively throughout the United States and Finland.
The Sunday evening program features three unique organ and percussion combinations that show diverse compositional approaches. Czech composer Petr Eben's five-movement Landscapes of Patmos opens the concert, drawing its inspiration from images of the Apocalypse found in the Book of Revelation.
The program's middle work is Meditation by American twentieth-century composer Paul Creston. The piece's roots lie in Creston's Concertino for Marimba, a pioneering work whose second movement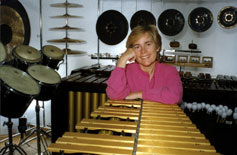 Creston later transcribed for organ and marimba.
Lou Harrison's unique and monumental Concerto for Organ with Percussion Orchestra will end the evening. One of the giants of American percussion music, Harrison's music features eclectic resources and revelations that cross and transcend cultural boundaries. His Concerto for Organ with Percussion Orchestra is no exception, as evidenced by the specially made percussion instruments that evoke sounds of Asian music.
Visit the DePauw University School of Music online by clicking here.
Back