Danica Rodemich Mathes '98 Named an 'Up and Coming Lawyer'
October 3, 2004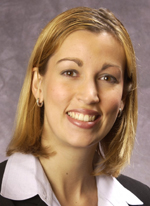 September 28, 2004, Greencastle, Ind. - Danica Rodemich Mathes, a 1998 graduate of DePauw University, is a "rising star" among Missouri lawyers under the age of 40 "who already have distinguished themselves in some manner and appear poised for even greater things." So says
Missouri Lawyers Weekly
in naming Mathes as one of ten "Up and Coming Lawyers" in the state -– those who are "contributing to the legal profession and making their communities a better place to live."
Mathes is an entertainment and intellectual property attorney with Blumenfeld, Kaplan & Sandweiss, P.C., in St. Louis and an adjunct professor of entertainment law at Washington University School of Law. She is a member of the board of directors for St. Louis Volunteer Lawyers and Accountants for the Arts, St. Louis Young Variety Board and StarPolish.com Attorney Panel. She also is a member of the American Bar Association Entertainment & Sports Law Forum.
A double major in music and communications at DePauw, Mathes graduated in 1998 and earned a law degree at Washington University in 2001. She is an active member of the
DePauw Regional Alumni Council in St. Louis, and she was a member of her 5th reunion planning committee in 2003.
Missouri Lawyers Weekly points out that Mathes, who sang in the choir at DePauw and served internships in broadcasting, "has managed to maintain a connection to entertainment by fashioning, right here in the Midwest, an entertainment law practice with clients from around the country."
In the article, Mathes said, "At the time I was leaving law school, there was a bit of a revival going on in St. Louis as an entertainment center. Even as long as 10 years ago, there were a bunch of new rock bands that came on the scene in St. Louis. And then, while I was in law school, the rapper Nelly had his big
breakthrough. That brought much more attention to what was going on here."
Eventually, Nelly became one of Mathes' clients, the Weekly notes. Her other clients have included film producer Buzz Hirsch; a St. Louis-area jazz record label, MaxJazz; NBA player Larry Hughes; and Anthony Cosmo, member of the 1970s rock band Boston. "When you work with entertainment clients, you wear a lot of hats," Mathes said. "I find I do a little bit of everything when it comes to helping their careers. I help them find photographers or publicists, managers or record labels. I even act as an adviser about life for them."
Visit Missouri Lawyers Weekly online by clicking here.
Back