State Representative Candidate Eric Wolfe '04 Endorsed by 9/11 Commission Vice Chair and Former Congressman Lee Hamilton '52
September 30, 2004
September 30, 2004, Greencastle, Ind. - Eric A. Wolfe, the Democratic nominee for District 44 Indiana state representative and a 2004 graduate of DePauw University, has the endorsement of Lee Hamilton, who served as a member of the United States for more than three decades, served as vice chair of the 9/11 Commission, and is a 1952 DePauw alumnus. The Banner-Graphic of Greencastle reports that Hamilton "shared strategies and tips with Wolfe" when the two met September 17 on the DePauw campus, where Hamilton participated in "DePauw Discourse 2004: Issues for America" (read more here).
The newspaper says Hamilton told Wolfe, "You're doing the right thing. You're using shoe leather to meet the voters and hear what they have to say, and people vote for candidates who care and are not just around during the election year. I'm glad to see a young person as a candidate; just as I was, not long ago."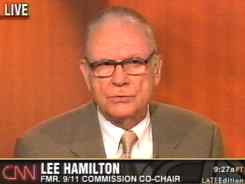 The Banner-Graphic notes, "Wolfe and Hamilton have a great deal in common. Both grew up in southwest Indiana -- Wolfe in Brazil and Hamilton in Evansville -- both attended DePauw, and each started a life of public service at a young age. Hamilton was only 34 years old when elected to the U.S. Congress. Wolfe will be 23 years old if elected state representative. He is running against Republican incumbent Andy Thomas of Brazil."
Visit Eric Wolfe's campaign Web site by clicking here.
Back