General Mills CEO Steve Sanger '68 Announces Move Toward Whole Grain Breakfast Cereals
September 30, 2004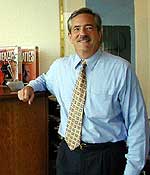 September 30, 2004, Greencastle, Ind. - "Consumers are looking for food products that can be part of a healthy, balanced lifestyle," Steve Sanger, chairman and CEO of General Mills and a 1968 graduate of DePauw University, said today as he announced that his company is converting all of its breakfast cereals to whole grain. "The move announced Thursday by the nation's second-largest cereal maker affects 29 cereals, including such popular brands as Trix, Golden Grahams, Lucky Charms and Rice Chex," the Associated Press writes. "The new recipes and packaging will be launched in October, he said. General Mills officials said the whole-grain switch is designed to make it even easier for consumers to eat healthy
food."
"This innovation brings important health news to the cereal aisle," Sanger added. "Delivering whole grain across our entire Big G cereal portfolio will benefit the people who love our cereals and should be good for the entire cereal category." General Mills is the nation's #2 cereal maker.
Read the AP article at the Web site of the Washington Post (a free registration is required) by clicking here.
Steve Sanger received an honorary degree at last May's commencement ceremony. Access a story that includes a video clip here.
Back