A New Record: This Site Received Nearly 10.9 Million 'Hits' Last Month
October 1, 2004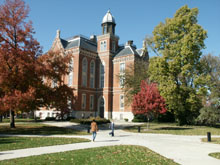 October 1, 2004, Greencastle, Ind. - The leaves weren't the only things falling as September wound to a close on the DePauw University: the all-time records for most traffic on this Web site fell last month. DePauw.edu received 10,892,473 "hits" last month, obliterating the previous record high of 10,165,885 set in November 2003. New highs were also set for visits (544,287) and page views (2,636,015). This was the destination of 127,606 unique visitors in September, a total that was short of the all-time mark. ("hits" is a count of all the successful hits including HTML pages, pictures, forms, scripts and files downloaded; unique visitors counts each user once per month; visits counts every time a user visits the site).
"These continuing increases in site traffic represent a wide range of activity from all our audience groups," notes Web director Scott Cooper (seen below right). "This time of year has seen record site traffic four years in a row, but we're always surprised at how quickly the pace increases. A 50% gain in two years is fantastic,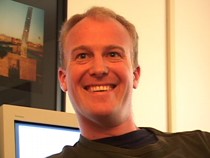 and a lot of the credit goes to our network of campus web authors and our local Web Team gurus, Byron Craft and Cedric Savarese. They make the site worth visiting!"
The average visitor to DePauw.edu last month spent 16 minutes and 15 seconds on the site. Of the unique visitors, 95,571 stopped by the site just once, while the average visitor came to the site 4.27 times in September. Besides the homepage, the most widely viewed pages were in the news (40,751 visits and 107,300 page views), student (32,743/43,946), and athletics (23,301/30,685) areas of the Web site. Other popular destinations were e-Services, libraries, admission, academics, WGRE and alumni relations.
"The appearance of Ambassador L. Paul Bremer on campus (September 16; read more here) brought a lot of new traffic to our site, as did 'DePauw Discourse 2004: Issues for America,'" says Ken Owen '82, director of media relations (seen below to Bremer's right), who
oversees the news content on DePauw.edu and writes the vast majority of the stories. "We had 104 news items on the site last month, which is also a record. DePauw has had a lot of great stories to tell, and we clearly have an audience that's anxious to keep up with the latest happenings."
At least 5% of last month's visits came from foreign countries (another 4.2% were of "unknown origin," meaning the Web server could not detect where the user was located). The top countries for visits, besides the USA, were (in descending order) the United Kingdom, Australia, Canada, the Netherlands, Norway, Germany, Sweden, France, Spain, and South Korea.
September Statistics
Hits Page Views Visits Unique Visitors
2004 10,892,473 2,636,015 544,287 127,606
2003 9,413,867 1,975,013 445,489 81,171
2002 7,260,618 1,302,091 362,884 64,445
2001 4,731,435 897,918 241,615 38,056
2000 2,869,341 696,035 143,200 24,621
Back