Five Campus Buildings Named to Honor Significant Individuals from DePauw's Past
November 10, 2004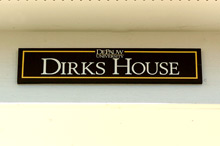 November 10, 2004, Greencastle, Ind. - Five duplexes on the DePauw University campus that house students now bear the names of significant individuals in the University's 167-year history. The naming of "Pence Hall" and the others listed below follows a tradition that began in August 2003, when DePauw named its twelve

then-newly constructed duplexes after important figures in the University's past. "These are people who made tremendous contributions to DePauw that helped shape the legacy of the University and make DePauw the institution it is today," says President Robert G. Bottoms. "It's fitting that today's students --and those who come to DePauw in the future -- be reminded of these individuals and their good works each time they enter these buildings."
The honorees, and the addresses of the buildings that now bears their names, are:
Louis H. Dirks (1880-1967), 508 S. Jackson Street - Native Hoosier Louis H. Dirks was born in 1880 on a farm near Maywood, earned A.B and M.A. degrees from Indiana University and was vice principal of Shortridge High School in Indianapolis before coming to DePauw in 1926. He served as Dean of Men and as professor of education from 1926 until his retirement in 1948. Upon his death in 1967, he was eulogized for his "quality of eternity. . . in bringing out the best in young people." Dirks was awarded the Leather medal by DePauw students for his outstanding service to the university community and received a "D" blanket in 1965 for his continuous support of DePauw athletics.
Fred S. Silander (1926-2000), 109 W. Hanna Street #1- Fred Silander was a veteran of World War II who received B.S. and M.S. degrees from the University of New Hampshire and a Ph.D. from Cornell University. Coming to DePauw in 1958, Dr. Silander taught economics, and served as Vice President of Finance (from 1981) and as Vice President of Academic Affairs (from 1987) until his retirement in 1991. His community involvement included service as local board president for Cummins Mental Health and he headed the Putnam County Library board during that facility's 1995-1996 renovation. He was honored in 1998 as the Putnam County Mental Health Association's Person of the Year, and in 1999 the Governor of Indiana named him a Sagamore of the Wabash.
Deloss W. Minshall (1828-1901), 109 W. Hanna Street #2 - At the age of twenty, Deloss W. Minshall moved from Mercersburg, Pennsylvania, to Terre Haute and distinguished himself as a clothier, financier, and philanthropist. A lifelong member of the Methodist Episcopal Church, he gave $50,000 to DePauw University for a chemical and physical laboratory building, and on June 12, 1901 the cornerstone of Minshall Laboratory was laid. DePauw's benefactor could "converse with grasp of subject and luminous exposition upon topics that were scientific, speculative or metaphysical, historical or relating to general belles letters. We should make our lives so honorable that they should stand for something," according to Minshall.
Raymond W. Pence (1885-1977), 109 W. Hanna Street #3 - After earning B.A. and M.A. degrees from Ohio State University, Raymond Pence went on to teach at Oregon State, Washington State, and Denison universities. Pence came to DePauw in 1916 as the James Whitcomb Riley Professor of English Literature, teaching for 36 years a variety of writing courses, including fiction, composition, grammar, and drama. The author of a dozen books on writing, Pence believed in revision, revision, revision. The professor told scholars accuracy of expression came only through practice, and the self-discipline of good writing led to a successful life. In 1967, Pence's former students named an Asbury Hall seminar room in honor of their beloved professor.
Matthew Simpson (1811-1884), 109 W. Hanna Street #4 - He was certified to practice medicine, but Matthew Simpson did so for only eight months before joining the ministry of the Methodist Episcopal Church. In 1839 Simpson officially became the first president of Indiana Asbury University (now DePauw University), serving this institution for nine years. Named Bishop of the Methodist Episcopal Church in 1852, the "rabid" abolitionist was spiritual/political advisor to President Abraham Lincoln and delivered the eulogies at Lincoln's White House and Springfield, Illinois, funeral services. Simpson also became the confidant of Presidents Grant and Hays, and was later a crusader for laymen's and women's rights.
Back