Order Today and Get 'Early Bird' Discount on 2004 Monon Bell DVD
October 21, 2004
"Coach Nick" to Broadcast Game on DirecTV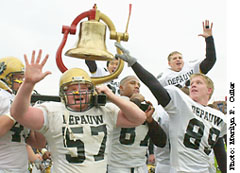 [Download Video: "See The Ballad of the Monon Bell" 9346KB]

[Download Audio: "Hear The Ballad of the Monon Bell" 2900KB] October 21, 2004, Greencastle, Ind. - The 111th Monon Bell Classic will be documented on a DVD, just as the previous three games were, DePauw University and Wabash College jointly announced today. "Fans, players and their families have let us know they love it, so we'll do it again," says Ken Owen '82, director of media relations at DePauw, who masters the disc. The 2004 platter will include a treasure trove of extras, including "Monon Memories" -- clips of past Bell battles dating back to 1940 -- as well as a photo gallery, the original Ballad of the Monon Bell music video, all-time scores and, of course, every play of the game, which will be played November 13 at 1 p.m. in Crawfordsville.

[Download Video: "1996 Monon Memory" 4575KB] Between now and kickoff, the DVD is available at a special "early bird discount" of $10 (copies of the disc will be $12 after that date). You can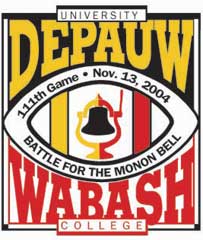 pre-order your disc by clicking here.
"The DVD has been a terrific joint venture for the last several years and alumni from both schools embrace it," says Jim Amidon, director of public affairs and marketing at Wabash College, who co-produces the DVD with Owen, his counterpart at DePauw. "We're fortunate to be able to televise the game, which sets our rivalry apart. That our alumni, parents, and students can purchase a DVD further cements the Monon Bell Classic as the top rivalry in college sports."

[Download Video: "1942 Monon Memory" - 1967kb]
The DVDs are co-produced by Owen and Amidon and professionally replicated by Sony Disc Manufacturing. "We decided to make a DVD after the thrilling 2001 game -- which was literally decided after time expired -- and the reaction was tremendous," Owen says. "I think it's safe to say that a number of people have come to rely on the disc. It's a great way to relive a Saturday in November that fans of both schools spend the year talking about, and the 'Monon Memories' are great keepsakes for those who have followed this special rivalry for years."

[Download Video: "1970 Monon Memory" - 2489kb]
The Monon Bell DVDs have been available through the Internet, campus bookstores and an Indianapolis Borders Books and Music store, and have been reviewed in the Indianapolis Star. Football lovers can
grab remaining copies of the 2003, 2002 and 2001 Monon Bell DVDs at a special price of $10 (click here to order). The discs contain every play of the game, some of the sideline features and a few bonus surprises.

[Download Video: "1980 Monon Memory" - 1795kb]
In 2004, for the first time in its history, the Battle for the Bell will be televised nationally on DirecTV channel 321, and can be seen in central Indiana via WHMB/Channel 40. "Small dish technology is now ubiquitous, and this year fans should have no trouble tuning in the game, whether at one of the dozens of game day telecast parties being held across America or in the comfort of their own homes," Amidon says. "As we've been saying since we announced the agreement in July, finding the game will literally be as easy as 3-2-1."

[DOWNLOAD VIDEO: "2001 Monon Memory" 4124KB]
As in the past, DePauw alumni will gather to watch the telecast and cheer on the Tigers at parties in dozens of cities across the nation. For a list of sites and hosts (party hosts are still
needed in some cities), click here.

[Download Video: "1997 Monon Memory" - 1537kb] A familiar voice will provide color commentary this year. Nick Mourouzis, who retired last fall as DePauw's all-time winningest football coach, will be in the booth for the Bell Classic. Read more about "Coach Nick's" involvement here.
DePauw's allotment of 3,500 tickets for the game go on sale October 27 and, as in past years, are expected to sell out quickly. Read more by clicking here.
Back