"Extraordinary Political Leadership" Needed for Iraq, Lee Hamilton '52 Says
October 4, 2004
October 4, 2004, Greencastle, Ind. - "Lee Hamilton, the former Hoosier Democratic congressman and the vice chairman of the commission investigating the September 11 attacks, said it may be impossible for Kerry to garner international support, 'but it is very clear Bush did not get it,'" writes Sylvia A. Smith in the Fort Wayne Journal Gazette. Her article, published yesterday, examines the differences between President Bush and John Kerry that were spotlighted during last week's presidential debate. Lee Hamilton is a 1952 graduate of DePauw University.
"Hamilton agreed that although Bush and Kerry are sharply divided over the context of the invasion, they 'pretty much agree' on what has to happen now: continue the military action, promote the international conferences, prepare for elections and train Iraqis to handle their own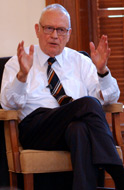 military and law enforcement problems," Smith writes.
A Democrat who has known Kerry for many years, Hamilton tells the newspaper the outcome in Iraq "is very much in doubt" and "it'll take extraordinary political leadership to get us out of Iraq in a manner that reasonably accomplishes our objectives... I don't think Bush has done it very well."
Access the column online by clicking here.
Lee Hamilton was on the DePauw campus September 17 to participate in "DePauw Discourse 2004: Issues for America," and discussed the situation in Iraq and the work of the 9/11 Commission. Read a story that includes video and audio clips here.
Back