Medieval Ensemble Altramar to Perform Celtic Concert at DePauw Sunday
October 6, 2004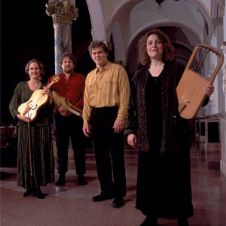 October 6, 2004, Greencastle, Ind. - The charm and diversity of Celtic music will be on display in Thompson Recital Hall of DePauw's Performing Arts Center, Sunday, October 10 at 3 p.m., as medievalists Altramar perform their fascinating program, "From Galway to Galicia: The Celtic Shores." The concert will seek to rediscover the mystical ancient Celtic music that once existed throughout the Atlantic in an entertaining and educational setting. Sponsored by DePauw University's Performing Arts Series and School of Music, the event is free and open to the public.
Founded in 1991, Altramar is a four-member group, consisting of Jann Cosart, Chris Smith, David Stattelman, and Angela Mariani. Specializing in the music of the Medieval Era, the ensemble's name comes from the Occitan language and describes, "The lands where Crusade and trade resulted in the rich cultural interchange of East and West."
This breadth will certainly be on display for Altramar's Sunday concert, "From Galway to Galicia: The Celtic Shores." Expanding beyond typical definitions of Celtic music and its singular association with Ireland, Altramar will detail the travel of Celtic music to various lands unified by their proximity to the Atlantic Ocean. As a result, the listener will be taken on a musical journey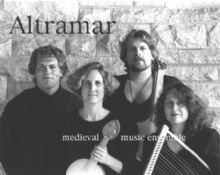 through North Africa, the Iberian Peninsula, Britannia, and Hibernia that conflates both space and time.
In addition to entertaining audiences throughout North America and Europe with their melodious sounds, Altramar also focuses on presenting accurate and informed performances. The root of this historical passion lies in the group's formation at Indiana University's Early Music Institute under the tutelage of renowned medieval scholar, Dr. Thomas Binkley. Decisions and programs are carefully researched for accuracy, with the group delving into such diverse areas as philology, linguistics, literary history, musicology, ethnomusicology, theology, iconography, and archeology in order to lend authenticity to their performances.
Altramar's unique signature instruments are one obvious example of this attention to detail. Collaborating with luthier Timothy G. Johnson, the group's instruments are created through skilled workmanship and painstaking research that consults medieval paintings and sculptures. The demands of Altramar's Celtic

projects have resulted in additional reconstructions, which include a cruit (Celtic lyre), crwth (a six string bowed lyre), and a twenty-four string medieval Celtic harp.
This academic commitment, as well as their stunning music, has not been lost on critics from around the country. "Talent, creativity, and imagination [and] thoroughness of scholarship," says Boston Early Music News. "If this isn't the very definition of Historically-Informed Performance, I don't know what is."
Visit the DePauw University School of Music online by clicking here.  
Back