TV's Mo Rocca Finds Humor in Campaign 2004 and Walden Inn Plaque During Appearance at DePauw
October 4, 2004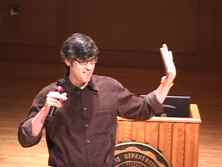 October 4, 2004, Greencastle, Ind. -

[Download Audio: "A Warm Welcome" - 199kb] "I heard earlier people chanting 'We want Mo,' which was incredibly flattering since I'm not running for anything," said television political humorist and author Mo Rocca as he took the stage at DePauw University's Kresge Auditorium tonight. Rocca -- former senior political correspondent for Comedy Central's Daily Show with Jon Stewart, current contributor to NBC's Today show and host of Bravo's upcoming Things I Hate About You -- added, "The only thing that would have been better is if I had had protestors, which would have been really great. Like, 'We hate fake journalists. No fake reporters here."
Rocca's presentation to a crowd of about 700 students consisted of his thoughts on everything from gay marriage to the presidential campaign, always with a healthy dollop of humor. In last week's first presidential debate, Rocca says the candidates seemed to reinforce the stereotypes that had developed over recent weeks.

[Download Audio: "The Debate" - 528kb] "Kerry looked to me like a snooty French waiter," Rocca told the crowd. "He sort of had that bearing at the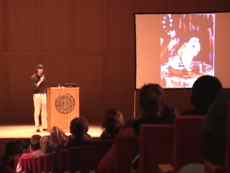 beginning like I expected him to say, 'I'm sorry we have no Crème Fraîche'... or present a bottle of Grey Poupon mustard or something. And Bush progressively became more like Rain Man throughout it, sort of repeating, over and over, like, 'I know how this world works, I know how this world works.'"
Less than a week ago, Rocca, who has been called "the Thinking Man for the South Park generation," released a new book, All the Presidents' Pets. The publisher describes the tome as "a satirical tour de force of investigative journalism that blows the lid off a long-held secret in Washington: the presidents' pets are more than just photo ops." The political satirist told his DePauw audience it is

[Download Audio: "Strange Book" - 169kb] "a kind of strange book, that is not all about animals. Actually, it's really about the media and the White House."
Rocca, who is also regularly seen on VH1's I Love the 70s, I Love the 80s and I Love the 90s,
invited a DePauw student to the stage for a 1990s trivia contest (her prize: a Hootie & the Blowfish 'Best Of' compact disc), and pondered out loud over his campus accomodations.

[Download Video: "Plaque at the Walden Inn" - 1966kb] "I'm staying at the Walden Inn, and it was interesting because when I came in there was a little inscription from Emerson, which was kind of ironic because I think that Thoreau and Emerson -- I mean, we all know they hated each other, it was like Bloods and Crips; like Hillary Duff and Lindsay Lohan -- they hated each other. They were dueling American thinkers, so it was kind of interesting [for it] to be there."
The ubiquitous Rocca is also a commentator for CNN, FOX News Channel, and a regular panelist on NPR's Wait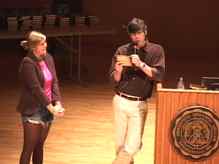 Wait...Don't Tell Me! The former president and writer of Harvard University's Hasty Pudding Theatricals, Rocca began his career in TV as a writer and producer for the Emmy and Peabody Award-winning PBS children's series Wishbone. Rocca went on to write and produce for other kids series, and also served as consulting editor at the men's magazine Perfect 10. On The Daily Show, he profiled eccentrics ranging from a man so obsessed with First Ladies that he dresses up as Florence Harding (wife of Warren) to a husband and wife pet mummification team.
Mo Rocca's DePauw appearance was sponsored by Union Board.
Back