GOP Gubernatorial Candidate Mitch Daniels Encounters "Terrific" Questions at DePauw
October 5, 2004
October 5, 2004, Greencastle, Ind. -

[Download Video: "Back on Campus" - 386kb] "I love DePauw and I've been here many times," said Mitch Daniels, the Republican candidate for Governor of Indiana, as he met with students in the lobby of DePauw's Memorial Student Union Building this morning. "I have many friends, my one and only sister (Deborah Daniels '73) is a proud alumna." Daniels, former White House budget director under President George W. Bush, began his visit to DePauw by holding an hour-long discussion with Professor Gary Lemon's Management Fellows Colloquium. That was followed by the meeting with College Republicans and other interested students at the UB.
Indianapolis NBC affiliate WTHR was on campus covering Daniels' visit,
and interviewed the candidate live via satellite during the noon newscast. Daniels told reporter Kevin Rader he's visited a number of colleges and universities around the state during the campaign.

[Download Video: "Bright Students, Good Questions" - 386kb]"The questions are always terrific, and here, you know, this is a group of students who are going to study business management -- exactly the kind of kids that are leaving Indiana too often today and the kind we want to build our future on. I'm uplifted every time I'm at a place like this."
The report included footage of Daniels talking with students in Watson Forum of the Eugene S. Pulliam Center for Contemporary Media, which can be seen here:

[Download Video: "Mitch Daniels with DePauw Students" - 684kb]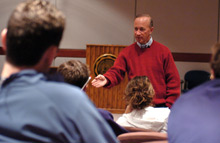 A WTHR/Indianapolis Star poll released today shows Daniels ahead of Democrat incumbent Governor Joe Kernan by three percentage points -- within the survey's margin of error of 3.2%.

[Download Audio: "The Poll #s" - 609kb] "Last November, of course, I was way behind him," Daniels told student reporters at an impromptu news conference in the Union Building. "We're not changing anything. We said our campaign would be on the road, and it is. We said it'd be on the high road, and it is and will stay there."
Read more about Mitch Daniels in this previous story, or at his Web site by clicking here.
Back