Veteran Political Columnist Jack Germond at DePauw for Crain Lecture October 13
October 7, 2004

October 7, 2004, Greencastle, Ind. - For more than forty years, Jack W. Germond has been covering politics for Gannett newspapers, the Washington Star, and the Baltimore Sun, and talking politics on the Today Show, The McLaughlin Group, and Inside Washington. On Wednesday, October 13, Germond will bring his insights to the DePauw University campus for a Gertrude and G.D. Crain Jr. Lecture. The event, at 4:15 p.m. in Watson Forum of the Eugene S. Pulliam Center for Contemporary Media, is free and open to all.
Today, Jack Germond serves as a panelist on Inside Washington and writes occasional newspaper pieces. In a January 29, 2001 speech at Northwestern University, Germond said that the uninspiring campaigns of George W. Bush and Al Gore were chief reasons for his giving up the syndicated column he'd written for years. "This is a cranky old guy talking, maybe," Germond said. "But I thought to myself, 'How can I claim to be doing serious work parsing the rhetoric and strategy of two candidates this bad?' I was embarrassed by what I was doing. So I quit."
In July of this year, Germond released Fat Man Fed Up : How American Politics Went Bad, a follow-up to his previous book, Fat Man in a Middle Seat: Forty Years of Covering Politics. In Fed Up, the publisher writes, "Germond confronts the most critical issues raised by our election process and offers a scathing but wry polemic about what's wrong with American politics. Is there any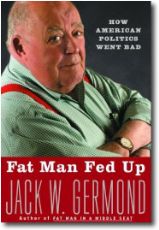 connection between what happens in campaigns and what happens in government? And if not, where does the blame for the discontent lie? Was Tocqueville right? Do we get the leaders we deserve?"
Endowed by Rance Crain, president of Crain Communications and a member of DePauw's Class of 1960, the lecture series, which honors Mr. Crain's parents, was created last spring to enrich the DePauw environment in the area of public affairs and public issues.
Previous Crain Lecturers have included military sociologist Charles Moskos (read more here); historian Douglas Brinkley, author of Tour of Duty: John Kerry and the Vietnam War (read more here); David A. Keene, chairman of the American Conservative Union (read more here); and Joe Trippi, who managed Howard Dean's presidential campaign (read more here).
Back