New York Times Examines Ambassador Paul Bremer's Remarks at DePauw as Controversy Continues
October 6, 2004
Also:
Text, Photos, Audio & Video of Paul Bremer's 9/16 Ubben Lecture
October 6, 2004, Greencastle, Ind. - "Assertions by L. Paul Bremer III, the former top American administrator in Iraq, that President Bush had not sent enough troops to secure the country put the White House on the defensive on Iraq policy on Tuesday and prompted Senator John Kerry to expand his assault on Mr. Bush as commander in chief," begins an article in today's New York Times. "Mr. Bremer's comments, made in two recent speeches, quickly moved to the center of the presidential campaign. He said at DePauw University on September [16] that he had often raised the problem with the administration and 'should have been even more insistent.' He also spoke Monday at an insurance conference in West Virginia, where he apparently thought his comments were off the record."
The Times notes, "At DePauw University, Mr. Bremer said that 'the single most important change --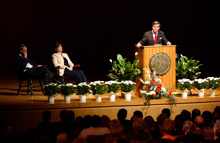 the one thing that would have improved the situation -- would have been having more troops in Iraq at the beginning and throughout' the occupation. He said that he raised his concerns a number of times within the administration, but that he 'should have been even more insistent.' His remarks there were posted on the DePauw Web site." Access the complete story by clicking here.
The story has appeared in literally hundreds of newspapers worldwide in the past 24 hours. New York's Newsday writes, "it was the comments of Bremer -- first made in a... speech at Indiana's DePauw University and repeated Monday in West Virginia -- that drew most of the attention. At DePauw, Bremer said he had raised the issue of insufficient troops in Iraq within the administration and now wished he had been more insistent given what has happened since." Read more here. Bremer's DePauw comments are also cited in an op-ed in today's Wall Street Journal read more here; a paid subscription is required). Gerald Seib writes, "Bremer also told an audience at DePauw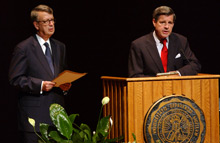 University that he 'raised this issue a number of times with our government,' but didn't get results, according to the university's Web site. In addition, yesterday's NBC Nightly News included footage of the DePauw lecture in a report on the ambassador's remarks.
Read a story in Wednesday's Washington Post here and a related article here. Access a complete wrap-up of Paul Bremer's Timothy and Sharon Ubben Lecture at DePauw, including audio and video clips, by clicking here.
Back