Bruce Bickner '65 Elected to Board of AMLI Residential Properties Trust
October 9, 2004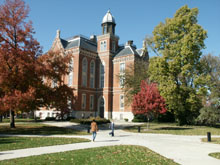 October 9, 2004, Greencastle, Ind. - Bruce P. Bickner, a 1965 graduate of DePauw University, has been elected an independent trustee of AMLI Residential Properties Trust (NYSE: AML) and will head the audit committee. Bickner currently serves as a member of the boards of directors for Nicor, Inc. and Nicor Gas Company, Gel Med Sciences, Inc., and PlantGenix, Inc. He was employed by DeKalb Genetics Corporation from 1988 to 2000 where he served as chairman and chief executive officer and by DeKalb Energy Company where he held various management positions from 1975 to 1986 and then served as chairman and CEO from 1986 to 1995.
Bickner was also employed by Monsanto Company as executive vice president for competitor strategy (2000-2001) and co-president, Global Seed Group (1998-1999). Additionally, he was associated with the law firm of Sidley & Austin (1968-1975), where he was a partner specializing in antitrust and securities/commodities matters. Mr. Bickner has also served on the boards of directors for Heinold Commodities, Inc., Heinold Hog Markets, Inc., Lindsay Manufacturing Company, Pride Oil Well Services, Inc., Arizona Feeds, Inc., and Dynapol, Inc.
"Bruce has an impressive background," commented Gregory T. Mutz, AMLI's CEO and chairman of the board and 1967 DePauw graduate. "He will be a great addition to our board and a great resource for our management team.
An announcement at Yahoo! News states, "Bickner has a JD from the University of Michigan School of Law (1968) and a BA (Political Science) from DePauw University (1965). His experience in higher education also includes being the ccting chief executive officer and chair of board of trustees of North Park University; a member of the president's advisory council, chair of the Law School Capital Campaign Committee and member of the Law School Committee of Visitors of the University of Michigan, and a member of the Board of Visitors of DePauw University and the Board of Advisors, Northern Illinois University School of Nursing.
Read more by clicking here. Visit AMLI online here.
Back