Bloggers Represent "First Amendment Working at Its Best," Prof. Jeff McCall '76 Writes
October 10, 2004
October 10, 2004, Greencastle, Ind. - "The mainstream press has frequently been called The Fourth Estate because of the watchdog function it serves in keeping an eye on government. A key issue recently has been whether anybody is keeping an eye on the press," writes Jeffrey McCall, professor of communication at DePauw University, in an op-ed published in the Indianapolis Star. "Given high-profile media missteps at places like the New York Times, USA Today and CBS, the press apparently needs somebody to hold it accountable. That role is increasingly served by bloggers, computer-savvy people who write their musings, rants and reflections in Web logs posted on the Internet."
The professor points out, "Web logs are basically electronic journals or diaries, usually with sections for reader comments and links to other sites. They cover subjects ranging from computers to gardening. It is the political bloggers, however, who have asserted themselves during this election year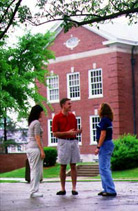 and have undoubtedly played a role in shaping the news agenda."
While McCall states that "most bloggers are unabashedly partisan," they can play an important role. "The now-discredited CBS story about the supposed National Guard memos was barely off the air before bloggers at the right-leaning freerepublic.com were posting challenges to the story's accuracy. Bloggers also caught the recent CBS story about a 'secret plan' to reinstate the draft and pointed out its errors. Blogger Josh Marshall at left-leaning talkingpointsmemo.com has jumped on FOX News Channel for posting inaccurate quotes on its Web site attributed to John Kerry."
Dr. McCall, a 1976 graduate of DePauw, asserts, "The grassroots entry of bloggers into the political agenda-setting arena is the First Amendment working at its best. First Amendment framers such as Madison and Jefferson would be pleased at the emergence of this electronic town hall. Journalists

and politicians shouldn't be the only people setting the public agenda. Bloggers are the new voices of the public seeking to impact the national dialogue, joining talk radio as one of the few avenues to express public sentiment and have anybody notice. Instead of allowing the press and politicians to determine the national agenda and then let the public react, bloggers are engaging in a process that might be called feedforward, telling the big shots what is on the public's mind. This can only be healthy for democracy."
Read the entire essay at the newspaper's Web site by clicking here.
Jeff McCall was quoted in an October 8 Orlando Sentinel article. Read more here.
Source: Indianapolis Star
Back