Indiana Needs "Straight Talk" and Leadership of Gubernatorial Hopeful Mitch Daniels, Prof. Ken Bode Writes
October 15, 2004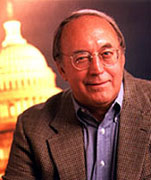 October 15, 2004, Greencastle, Ind. - "The election that will most immediately affect Indiana's future is the race for governor. After 16 years of one-party control, our state clearly needs a change of leadership. So, for governor, I'm voting for Mitch Daniels," writes Ken Bode, Eugene S. Pulliam Distinguished Visiting Professor of Journalism, in today's Indianapolis Star. In his weekly opinion column, the former CNN, NBC and PBS political reporter says in the past, as a reporter, "I always voted but never said for whom. Then, late last year, the Star invited me to write this column and things changed. Reporters and columnists both are journalists, but their jobs are different. A good reporter properly gives you the news and keeps his opinions to himself. A columnist takes the facts, adds them up and tries to persuade you to his point of view. So, here goes."
Of Daniels, former White House budget director under the current president and a former top executive for Eli Lilly and Company, Bode writes, "I have known him for 25 years,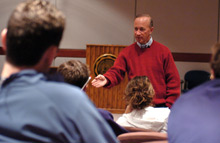 watched him work both in Indiana and Washington... Daniels is a Dick Lugar Republican. He entered politics with Lugar, worked for him when Lugar was mayor of Indianapolis and went to Washington as Lugar's Senate chief of staff. Daniels has the same values, political outlook and work ethic as his mentor. Sen. Lugar has spent a political lifetime learning all there is to know about national security and weapons systems, an expertise recognized so widely that he recently was considered a finalist for the Nobel Peace Prize. For the past 16 months, Daniels has taken a page out of the Lugar book. Criss-crossing Indiana in his RV, he has not only campaigned for governor, he has trained for the job."
Dr. Bode says those visits (including one to DePauw October 5; read more here), have been invaluable to
Daniels and say much about how he would govern. "He is a vacuum cleaner for information. He asks Hoosiers: What's on your mind? How do you feel about government? What do you need? What he has found is that many parts of Indiana feel left out, left behind, no longer part of the whole. On the road, Daniels also engages in straight talk. He tells college professors and business executives that they are too disengaged; they are an untapped intellectual resource. You can almost hear him say, "Don't ask what your state is doing for you, ask what you can do for your state." A governor who calls upon its citizens to serve? Wouldn't that be interesting."
In conclusion, Professor Bode asserts, "Mitch Daniels understands Indiana and its people. I will vote for him, hope he wins and then offer this one piece of advice: When you are governor, Mitch, get yourself a new RV and spend one day of every week on the road, talking, listening and learning. Govern from outside Indianapolis. Help every citizen understand we are all on the same road back."
Read the complete column by clicking here.  Ken Bode's other recent op-eds can be accessed here, here, here, here, here, here, here, here, here, here, here.
Back