General Mills' Steve Sanger '68 to Receive 2004 Diversity CEO Leadership Award
October 25, 2004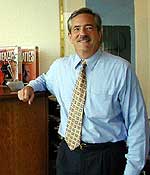 October 25, 2004, Greencastle, Ind. - Stephen W. Sanger, chairman and CEO of General Mills, Inc. and a 1968 graduate of DePauw University, will receive a 2004 Diversity CEO Leadership Award tomorrow night in Washington, D.C. at the 4th Annual Diversity and Women Leadership Gala Awards Dinner. The event, hosted by Diversity Best Practices (DBP) and the Business Women's Network (BWN), recognizes business leaders who are proven champions and advocates of creating inclusive, respectful, and diverse corporate cultures.
"The leaders recognized in this celebration live diversity," says Edie Fraser, president and founder of DBP and BWN. "They are taking advantage of every o
pportunity to create a new business culture that is progressive and inclusive, in addition to lucrative, as diversity has a bottom-line. We commend these remarkable leaders."
Prior to the Gala Awards Dinner, all of the honorees will hold a discussion on corporate diversity and inclusion, to be moderated by television's Karen Gibbs. Read more in a story at Business Wire by clicking here.
For a second consecutive year, General Mills is in the top 10 of Working Mother magazine's annual list of
100 Best Employers for Working Mothers (read more here). In a spring 2003 listing of America's "100 Best Corporate Citizens," Business Ethics magazine ranked General Mills #1 (the second place company, Cummins, is also headed by a DePauw alumnus, 1969 graduate Tim Solso; read more here). Steve Sanger received an honorary Doctor of Letters degree from his alma mater last May. Read more by clicking here.
At a November 19, 2002 Presidential Reception that Sanger hosted for DePauw at General Mills, the CEO noted,

[DOWNLOAD VIDEO: "Leading at DePauw" 521KB] "What I learned about leadership, what I learned about my interest in marketing came from DePauw." Read the complete story by clicking here.
Back