Lawlor Review: DePauw's 361° a "National Model" for Digital Fluency in Liberal Arts Setting
October 26, 2004
October 26, 2004, Greencastle, Ind. - "DePauw regards technology as the new liberal art," states an article in the Fall 2003 edition of the Lawlor Review. The publication covers the presentation Dennis A. Trinkle, associate vice president for academic affairs and chief information officer at DePauw University, made at a summer seminar sponsored by Hardwick-Day and The Lawlor Group in Minneapolis this past June. "Trinkle's presentation, 'Using Technology to Improve the Quality of the Educational Experience,' focused on how a $20 million Grant of Distinction from Lilly Endowment has made a small, Midwestern, liberal arts college a national model on how technology can transform the educational process."
DePauw's 361° program, writes the Review, "has DePauw wired from stem to stern... the goal of the initiative, explained Trinkle, is to create 'fluencies' in technology the way you would create fluency in other languages."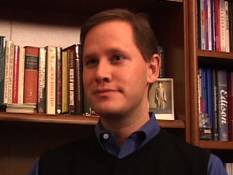 Dr. Trinkle, a 1991 graduate of DePauw, is quoted as saying, "It's not an add-on, not a supplement, not a skill. It's a constellation of high-end fluencies that our students need to be as familiar with as reading and writing."
Later, Bette Sack writes, "The philosophical underpinning of the 361° Initiatives, said Trinkle, is to present complicated material in a way that will engage students in learning. He described a system that allows professors and students to interactively share information by computer in the classroom. What is unusual about the 361°
Initiatives is the dedication to teaching over technology. Trinkle described the behind-the-scenes technology team as 'enablers' who make sure students and professors get their technological needs fulfilled. The result is a change in the pedagogical method. 'It isn't about letting the students interact with the computer,' he said. 'It's about the computer helping students communicate with each other and the professors.'"
In summary, Sack notes, "While DePauw may be a national model for this high-tech approach, there is no one blueprint, no one way to wire a campus, because technology must align with each institution's unique mission and culture, Trinkle said... 'You need to look at what you do well, how you can enrich that, build on your strengths, and go forward with that.' No matter how a school proceeds, Trinkle's advice is: 'Be sure your campus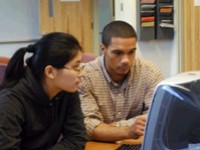 is pervasively wired up so the entire space can become a learning community.'
Published since 1992, the Lawlor Review is an education marketing journal that provides commentary on marketing and brand management issues facing higher education today. Learn more by clicking here.
DePauw is the third "most wired" college or university campus in the United States, according to the Princeton Review's "Top 25 Most Connected Campuses." The second annual list was made public last week at Forbes.com. The report analyzes and ranks the technology on 357 college campuses.
Read more about DePauw's ranking, and the 361° Initiatives, by clicking here.
Back