Prof. Ken Bode Quoted in Bloomberg Article on Viacom/CBS
October 27, 2004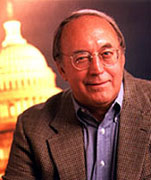 October 27, 2004, Greencastle, Ind. - A story at Bloomberg.com, which summarizes the earnings announcement from media conglomerate Viacom, Inc., includes analysis from a member of DePauw University's faculty. Viacom is the parent company of CBS. Aimee Picchi writes, "The network's news division's credibility was tarnished last month after CBS News anchor Dan Rather said he couldn't authenticate documents used in a report about President George W. Bush's Texas National Guard service, said Ken Bode, visiting professor of journalism at DePauw University in Greencastle, Indiana. 'Credibility is the issue,' Bode said in an interview. Rather 'put his network's reputation for unbiased coverage in jeopardy.'"
The article adds that Viacom CEO Sumner Redstone "said in an interview last month he was concerned about the CBS report and that an independent panel will investigate the matter. Redstone declined an interview for this story through spokeswoman Susan Duffy."

Access the complete story by clicking here. Ken Bode wrote an op-ed on the CBS controversy in the September 18 Indianapolis Star (read more here). Three days later, he appeared on MSNBC's Hardball with Chris Matthews.  You'll find an article complete with video clips from the program by clicking here. 
Back