John Jakes '53 "Adds to His Legend" With Savannah: Or, A Gift for Mr. Lincoln
November 1, 2004
November 1, 2004, Greencastle, Ind. - "We were sitting around (my) publisher's office and somebody pointed out that Christmas books were always popular and wondered if I had any ideas," says best-selling author and 1953 DePauw University graduate John Jakes of his latest book, Savannah: Or, A Gift for Mr. Lincoln. "I immediately thought of the Sherman letter to Lincoln, offering him Savannah as a Christmas gift. They loved it," Jakes tells the Island Packet of Hilton Head, South Carolina, in an article headlined, "Island author Jakes adds to his legend."
Don McKinney writes, "John Jakes has been making his living as a writer for more than 50 years now, a career that has encompassed everything from penning advertising copy to best-selling novels... Over his long career, Jakes has produced more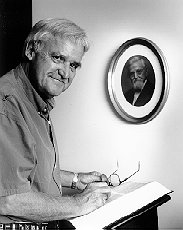 than 200 short stories -- the first sold when he was only 18 -- and written roughly a dozen children's books, anthologies of short stories, book forwards and close to 80 novels. He has to be a little vague about the exact number because 'many of them were sold to publishers who were so obscure I never even found copies.'"
The story notes, "Jakes first gained recognition for his work in 1974 with the publication of The Bastard, a paperback original. It eventually became part of The Kent Family Chronicles, a family saga that unfolds from before the Revolutionary War until 1891. The original plan was to write five novels that progressed until 1976, but Jakes finally called it quits at eight. The series is now being reissued, one every three months, beginning last January, and there are well over 50 million copies in print today. Jakes' first hardcover best seller was North and South in 1982, and it and its two sequels -- Heaven and Hell and Love and War -- brought him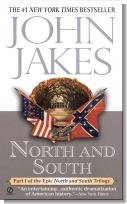 renown and the title 'godfather of the historical novel.'" Access the complete article at the newspaper's Web site by clicking here.
John Jakes is the author of sixteen consecutive New York Times bestsellers. His most recent work, Charleston, was his top-selling hardcover novel of the last ten years and appeared on bestseller lists coast to coast. In Savannah, a review in Booklist notes, "he effectively captures the tensions, hatred, and even a curious nobility as a dying civilization tries to stand against an irresistible force." Library Journal calls the new work "an engaging, well-crafted, and tightly focused story of a relatively unknown period of US history."
Learn more about Savannah: Or, A Gift for Mr. Lincoln, and order the book, at Amazon.com and Barnes & Noble.com.
Visit the author's Web site by clicking here.
Back