DePauw rolls to 51-10 Family Weekend win
October 4, 2003
Greencastle, Ind. - DePauw totaled 505 yards of offense with 253 on the ground and 252 through the air and the defense limited the Maroons to just 197 total yards on the way to a 51-10 win over visiting Chicago. DePauw improved to 3-2 on the season, while Chicago slipped to 1-3.
The Tigers jumped out to an early 12-0 lead in the first five minutes as quarterback Andy Yoder ran for an 8-yard touchdown and Justin Tillis intercepted a pass and returned it 29 yards for a score. DePauw missed both point-after kicks following the scores. Matt King's 2-yard run later in the quarter made it 18-0, but the Tigers failed to convert the two-point conversion pass.
DePauw missed a 24-yard field goal attempt early in the second, but on Chicago's first play on the next series Jonathan Tatum recovered Adam Carlock's fumble at the Chicago 25. Ross Wiethoff pushed the lead to 24-0 with a 12-yard run with 8:39 left, but the point-after attempt was off the mark.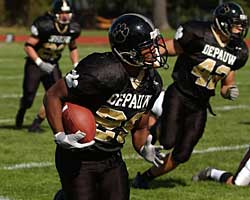 Sam Owens put the Maroons on the scoreboard on Chicago's next possession with a 1-yard run with 4:44 remaining in the half to cap an eight-play drive that included three DePauw penalties for 26 yards.
After forcing DePauw into its first punt of the day, Chicago took over on its own 16 with 2:10 left in the half. Mike Morentzi's 30-yard field goal with one second remaining in the half made it 24-10.
The Tigers put the game out of reach in the third by scoring on all four possessions and totaling 27 points. Torey Rauch hauled in a 22-yard scoring pass from Yoder with 9:35 remaining in the third to cap an 11-play, 65-yard drive and King scored on a 1-yard run with 6:45 left in the quarter to make it 37-10.
Jackson Rust scored on a 9-yard run with 2:23 left before Wiethoff wrapped up the scoring with a 7-yard run on the final play of the third. Tyler Mallory connected on the final three extra-point attempts to extend the margin to its final of 51-10.
DePauw controlled the ball for over 38 minutes and established a season-high of 253 rushing yards and were just one yard off of equaling the season's best with 505 total yards. Rust finished with 91 yards on 15 carries, while King added 82 on 15 attempts. Owens paced the Maroons with 42 yards in 10 tries.
Yoder completed 10 of 13 passes for 192 yards and one touchdown while Wiethoff added six-of-nine for 60 yards. Tony Pulice completed 15 of 32 passes for 104 yards for Chicago.
Jamarcus Shephard caught six passes for 70 yards to lead the Tigers while Brian Culp had five for 88 yards. Jim Raptis led Chicago with nine catches for 81 yards.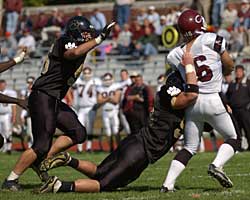 Aaron Key paced DePauw with eight tackles, with Luis Davila and Tatum each recording sacks. Curran Clark and Tillis each recorded one interception. T.J. Rajcevich finished with 12 tackles for Chicago, while Nathan Hines added seven and an interception. Robert Tamillow finished with the Maroons' only sack of the afternoon.
DePauw returns to Southern Collegiate Athletic Conference play on Saturday, October 11, at Sewanee. Chicago hosts Pomona-Pitzer next Saturday.
Back