Tigers finish fifth at Indiana State Invitational
October 4, 2003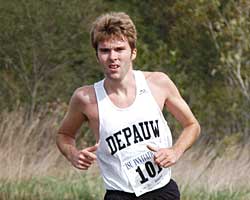 Led by Graham Wellman's 11th-place finish in 25:44 and Simon Flory's 13th-place showing in 25:48, DePauw totaled 137 points and finished fifth among the 10 teams at the Indiana State Invitational.
Air Force won the meet with a perfect 15 points and DePauw finished second to only Washington (Mo.) among Division III schools.
Matthew Behrensmeyer placed 42nd in 27:10, while Peter Hogg was 47th in 27:22 and Ryan Fenstermaker was 51st in 27:37.
DePauw travels to Hanover on October 10 for the Pre-Nationals meet. 
Back