DePauw finishes seventh at Indiana State; first among Division III schools
October 4, 2003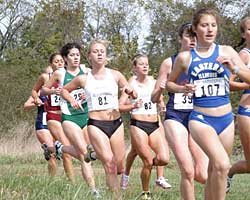 Natalie Shaffer finished 10th in 22:34.67 and Emily Mason was 32nd in 23:28.63 to lead DePauw to a seventh-place finish among the 13 schools at the Indiana State Invitational.
DePauw finished with 181 points to lead all non-Division I schools, while Ohio State won with 30 points.
Betsy App finished in 52nd at 23:59.27 followed by Lauren Hendrix in 57th at 24:12.02 and Liz Ulrich in 61st in 24:15.82.
DePauw returns to action on October 10 at the Hanover Pre-Nationals meet.
Back