2004 Monon Bell Classic is a Sellout
November 2, 2004
Also: Pre-Order Monon Bell DVD and Save

[Download Video: "See The Ballad of the Monon Bell" 9364kb]

[Download Audio: "Hear The Ballad of the Monon Bell" 2900kb]
November 2, 2004, Greencastle, Ind. - It's official: DePauw's allotment of 3,500 tickets for the 111th Monon Bell Classic has sold out. The final tickets were snapped up this afternoon. They went on sale last Wednesday, October 27. The game will be played at Wabash College in Crawfordsville on Saturday, November 13 at 1 p.m.

[Download Video: "1942 Monon Memory" - 1967kb]
"Monon Bell sellouts are now a rite of fall. It's been a number of years since tickets were available on game day," says DePauw director of athletics Page Cotton. "We've stressed for several weeks that it's important to purchase tickets as it's now a given that they will sell out."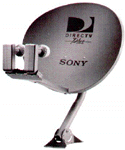 Today's announcement means that every seat on the DePauw side of the field is now accounted for. However, there are still tickets remaining for the pre-game breakfast in Crawfordsville which includes admission to the game and a meal for $25. More information on that is available here.

[Download Video: "2001 Monon Memory" 4124kb]
Per tradition, fans who are left without tickets can enjoy the game on television, and this year's contest will be the first-ever accessible nationally via DirecTV. All viewers need to do is tune to channel 321 on game day to catch every play, along with "Monon Memories" and the color that accompanies each Battle for the Bell. Nick Mourouzis, who retired as DePauw's head football coach at the end of the 2003 season with a record 138 victories, will provide color commentary on the broadcast. Viewers in Central Indiana can also see the Bell battle on WHMB/Channel 40 in Indianapolis.
Read more about the telecast by clicking here and here.

[Download Video: "1996 Monon Memory" - 4575kb]
If you want to cheer on the Tigers with fellow fans, alumni telecast parties will again held in approximately 50 cities across the nation. See where parties are being held in your area by clicking here.
A DVD of the game will be produced for a fourth year. It will include the entire game, as well as an array of extras that fans will enjoy. Read more about the disc, and order it online at a special "early bird" price of $10 (the price increases on game day) by clicking here.

[Download Video: "1974 Monon Memory" - 1811kb]
Wabash leads the all-time series 51-50-9, while DePauw leads in games played for the Monon Bell by a 34-32-6 count.
Back