President Faces "Huge and Unforeseen Choices" Over Next 4 Years, 9/11 Vice Chair Lee Hamilton '52 Writes
November 3, 2004
Also: Lee Hamilton at "Issues for America"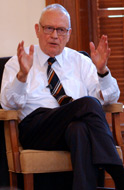 November 3, 2004, Greencastle, Ind. - "No president will get through the next four years without huge and unforeseen choices -- on war and peace, or terrorism, genocides, spiking energy costs, epidemics, financial crises, or environmental catastrophes," writes Lee Hamilton, vice chair of the 9/11 Commission and a 1952 graduate of DePauw University, in today's South Bend Tribune. "All must keep a difficult truth in mind: a president must prepare for the challenges clearly ahead, but also for those that lie around the corner."
Hamilton, who served as a US Congressman from Indiana for more than three decades, notes, "The presidential debates provided a clearer look at where the candidates stand on several foreign policy issues. But in a world
teetering on the brink of chaos, a major challenge was not debated: the next foreign policy surprise... Unforeseen crises often consume a president's foreign policy."
The Democrat, who is president and director of the Woodrow Wilson International Center for Scholars, says a number of issues, "floating under the radar screen, might pose problems for the next president. At the top of the list are North Korea and Iran. These hostile countries were addressed in the first debate, but the severity of the threat has not been fully acknowledged. North Korea likely has nuclear weapons; Iran is making progress with its nuclear program. We must decide soon what to do about this. In the next four years, the president will face one of these situations: a military confrontation with one or both countries, the acceptance of one or two new nuclear-armed nations, or a peaceful resolution of
differences with one or both nations that leads to their nuclear disarmament." He adds, "Pakistan could also pose enormous problems," and, "A crisis could also develop over Taiwan."
Access the complete text at the Tribune's Web site by clicking here.
Lee Hamilton touched on similar themes last week in a speech at Wake Forest University (read more here), and at DePauw Discourse 2004: Issues for America, which took place in September. Read more about Hamilton's presentation, and access audio and video clips, in this previous story.
Back