Admission Season Off to Strong Start with Applications Up 28%
November 5, 2004
November 5, 2004, Greencastle, Ind. - Applications to DePauw University are running 28% ahead of the pace of last year, when DePauw attracted one of its largest incoming classes in recent history. "Each year, DePauw becomes the top choice of more of America's best and brightest young students," says Madeleine Eagon, vice president for admission and financial aid.  "It's very early in the admission season, but these numbers suggest that increasing numbers of college hopefuls are attracted to DePauw."
As of October 29, more than a thousand applications (1,074) had been received from students who would be freshmen next fall, up from 842 at the same point a year ago.  Completed applications were up the same 28% (368 vs. 287). "In a very competitive environment,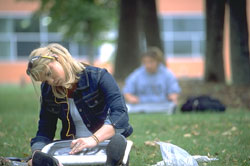 DePauw is doing very well, and I credit a number of factors," Eagon adds.  "First and foremost, with 233 full-time faculty members and a faculty/student ratio of one-to-ten, DePauw offers young scholars intellectual challenge and individual attention that are rare in higher education. Our facilities are first-rate, and the opportunities for students be active participants academically and otherwise are brilliant."
The vice president notes that external affirmation from U.S. News & World Report, which has ranked

DePauw in the nation's top tier of national liberal arts colleges for five consecutive years (read more here), continues to draw new attention to the University.  The Princeton Review's annual publication, The Best 357 Colleges: 2005 Edition, also gives DePauw high marks for its academics and social scene (read more here), as does the 2005 edition of the Unofficial, Unbiased Guide to the 331 Most Interesting Colleges (read more here).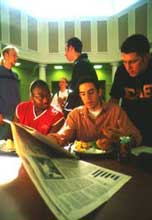 An October 2004 article in Atlantic Monthly cited the value of a DePauw degree (read more here), and a new, national survey posted at Forbes.com lists DePauw as America's #3 "most connected campus" (read more here).
Eagon notes, "This is a strong start to what we anticipate will be another highly competitive admission season. It's a great time to be talking with young people and their families about DePauw because they are truly excited about all that we have to offer."
Prospective students who would like more information on DePauw University, including access to an online application form, can click here.
Back