DePauw-Northwestern Basketball Exhibition Previewed on College Sports.com
November 8, 2004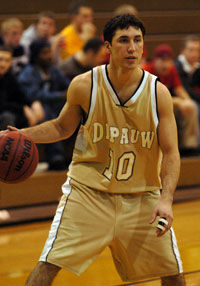 November 8, 2004, Greencastle, Ind. - The basketball season begins in earnest Thursday night "when the [Northwestern University] Wildcats entertain DePauw -- an NCAA Division 3 program -- at Welsh-Ryan Arena," notes College Sports.com of the exhibition game. "Tipoff is slated for 7 p.m., and admission to the game is $5. DePauw is coached by Bill Fenlon, a Northwestern graduate who played basketball for the Wildcats from 1976-79. He is the Tigers' all-time winningest hoops coach, leading his teams to a 201-109 record in 12 seasons."
In the article, Northwestern head coach Bill Carmody says, "We have to maximize what we get out of Thursday's scrimmage. This is our only game situation before we head to Alaska next week, so we may not get a chance to play everyone as we might have in
previous years. We want the guys who are going to be playing in eight days to get used to playing in a game situation, so we are going to approach Thursday's outing as a real game and substitute accordingly."
Read the story by clicking here. Visit the men's basketball team online here.
Back