Sophomore Profiled in Indianapolis Star
November 9, 2004

November 9, 2004, Greencastle, Ind. - Jennifer Jessen, a sophomore at DePauw University, is profiled in today's
Indianapolis Star
"Neighbors" column. The newspaper notes that Jessen is a communication major, and that she will be spending her Winter Term in Washington working with the College Republican National Committee. She is also "planning to go to England next fall to study theater and history of music. Will do an internship in London and be gone for five months."
Of her Washington internship, Jessen tells the Star, "I thought it would be something that would help me learn about public relations and a great chance to live in Washington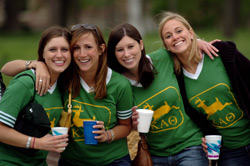 and learn more about political events. I feel I should know more about the politics in our country. I want to gain more knowledge and perspective. I'm excited to be there for the inauguration. I will be interning with a public relations director. I will be working with media, press information, internal and external communications."
The column also points out that Jessen is a "member of Kappa Alpha Theta sorority and Union Board, does TV and radio for the college stations and likes to run." You can find it online by clicking here.
Back