Former High School Teammates Now Rivals for the Monon Bell, Newspaper Writes
November 10, 2004
"Coach Nick" to Broadcast Game on DirecTV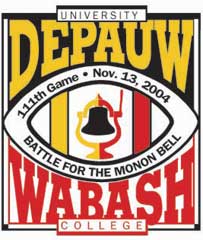 November 10, 2004, Greencastle, Ind. - "Torey Rauch and Aaron Selby have been playing football ever since they can remember -- first as teammates and now as rivals. Rauch will be the guest of Selby on Saturday at Bryon P. Hollett Little Giants Stadium when DePauw (7-2 overall) challenges Wabash (6-3) in the 111th Monon Bell Classic," writes Jeff Arenz in today's Crawfordsville Journal Review. "The DePauw senior wide receiver (Rauch) and the Wabash junior linebacker (Selby) were starters for the Southmont Mounties during the 2000 high school football season... Ever since, Rauch and DePauw have tried to win the Monon Bell from Selby and Wabash. The Little Giants, who currently are riding a three-game winning streak against the Tigers, have kept one college football's most valuable prizes away from DePauw during Rauch's career."
Read the complete story by clicking here. DePauw's allotment of tickets for Saturday's game is sold out (read more here), but fans can see the game nationally
on DirecTV channel 321 or at one of dozens of alumni viewing parties being held across America (read more here).
Again this year, a DVD of the Monon Bell Classic will be produced. It's available at a special pre-game price of $10 by clicking here.

[Download Video: "See The Ballad of the Monon Bell" 9346KB]

[Download Audio: "Hear The Ballad of the Monon Bell" 2900KB]
Back